A Japanese brand has won an absurd legal battle against Gucci
But, in the end, it only made more publicity for the Italian fashion giant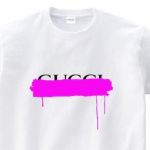 In the fashion world, there is perhaps no thing more sacred and fiercely protected than trademarks and intellectual property. And while legal scuffles erupt from time to time between big brands and independent designers, which then often end in nothing, there are a few cases that shine in cleverness or bizarreness. One such case is the legal battle Gucci has faced in Japan against a brand named CUGGL (according to the Financial Times, the exact pronunciation is "kyuguru") whose trademark was registered in October 2020 by Nobuaki Kurokawa, an Osaka-based designer who specializes in t-shirts that parody big fashion brands similar to those seen in tourist kiosks throughout Italy (the "Armani Comio" and "Versace N'Altro Litro" t-shirts remain iconic). The problems for Kurokawa began with a white T-shirt in which the bottom part of the brand's lettering is covered by a pink brushstroke, leaving exposed only part of the lettering that closely resembles the Gucci logo. About a month ago, the Italian brand obviously sued Kurokawa last year, claiming that the t-shirt causes confusion for customers by devaluing the original trademark.
Today in IP law: someone registered a trademark for CUGGL as a clothing brand in Japan, and sells shirts with the logo partially obscured. GUCCI sued, JP trademark office states that CUGGL is not similar enough to GUCCI to warrant enforcement. pic.twitter.com/FKIyaQBtlE

— Halvar Flake (@halvarflake) August 22, 2022
The classic legal battle ensued but, strangely enough, Gucci did not win: last July 12, in fact, the Japanese Patent Office rejected the brand's complaint, stating that both visually, conceptually and phonetically it would not be possible to confuse the two brands and, therefore, Kurokawa's operation does not infringe any trademark. Interestingly, a few months ago Kurokawa lost a similar case against Lacoste for trying to create a parody of the famous upside-down crocodile-this one, however, really too obvious to pass the scrutiny of Japanese judges who, according to the Financial Times, represent the gold standard in the world of international patents. The ruling in the CUGGL case, however, is important because, in the words of the American newspaper, it shows that « the public is not confused by parody».