Why HDry is the next level of gorpcore
Simply the most advanced waterproofing system in the world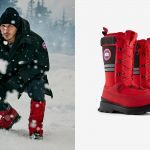 Gorpcore has been perhaps the longest-running trend in recent years. According to some, its relevance has been increased in 2020 due to the lockdown, which has pushed millions of individuals to dream of outdoor freedom, but the truth is that the fascination for technical mountain clothing was born together with the streetwear phenomenon and has not stopped even today. Part of this fascination is in fact due to the technological advancement of high-performance clothing that the main brands in the sector have brought more and more forward with the years. One of these advances, which recently appeared in a collaboration with Canada Goose, is the HDry technology, developed by the homonymous brand, and which consists of a three-dimensional direct rolling process applied on the outermost layer of a certain fabric. The result is a complete waterproofing, which seals the fabric while maintaining all its breathability.
The insight that guided HDry's technological development was simple. Normally, in fact, when you have to waterproof a shoe you use a sort of sock made of membrane called bootie that is inserted into the shoe but that remains separate from the actual upper. It is a simple and economical system from the point of view of large-scale industrial production, but which does not actually prevent the infiltration of water into the shoe: it simply stops it before it reaches the foot. But at that point the upper and insole are already wet, weighing down the shoe as well as limiting breathability and thermal insulation. With HDry, on the other hand, thanks to a technology inspired by the aerospace industry, a waterproof membrane is welded to the inner surface of the upper, sealing materials, seams and any other potential entry point in one fell swoop.
After collaborating with some of the main Italian outdoor brands, including Scarpa for the technical and high-altitude mountaineering lines, technology has recently arrived in fashion with the new FW21 collection by Canada Goose – a brand that has its roots in gorpcore but that has managed over time to make the transition to luxury fashion. The key item in which HDry technology is most expressed is the new Snow Mantra Boot, inspired by the brand's famous parkas, and which uses waterproof lamination to combine design with a level of performance never seen before.