The legacy of Aspesi's Shirt Jacket
When elegance meets functionality
After opening the doors of its headquarters on the occasion of ApritiModa, Aspesi unveils now the latest evolution of one its signature pieces. Ever since its foundation back in 1969, the brand has become synonymous with stylish wardrobe staples - especially shirts and outerwear - made with meticulous attention to materials and the development of designs.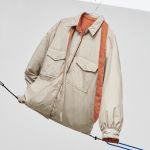 This heritage is encapsulated in one of the brand's icons, the product of an innovative idea that sees the garment acquire new transversal functionality, free of seasons. The shirt jacket, a crossover piece that combines the practicality and versatility of a shirt with the characteristics of a lightweight nylon jacket, perfect for the mid-season or as an extra layer in the depths of winter. In line with Aspesi's commitment to eco-sustainability, the shirt is padded with Thermore wadding which is entirely produced from recycled plastic from empty bottles. It takes the equivalent of ten plastic bottles to produce the padding for a single jacket. Thermore wadding ensures that body temperature is kept pleasantly warm.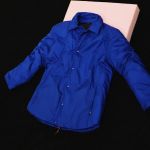 The unmistakable shirt jacket is made in soft high-density waterproof and windproof nylon taffeta. It features rounded shoulders, two small front patch pockets and is fastened with coloured press-studs to match the shirt.