Where to buy the Nike SB Dunk Low x Ben & Jerry's "Chunky Dunky"
The official drop date is set for Saturday, May 23rd
The Nike SB Dunk Low in collaboration with Ben & Jerry's, the well-known American company specialized in the production of ice creams, has aroused a lot of interest and attention since the first leaks and information, thus becoming already an anticipated release for many Dunk collectors.
At the end of this week, the Chunky Dunky will drop at selected skate shops on Saturday, May 23rd and on the 26th via SNEAKERS App, at the price of 101€.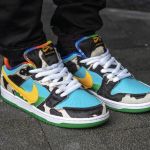 The Nike SB Dunk Low x Ben & Jerry's are characterized by a unique and tasty style. The design is inspired by the ice cream jar, specifically the "Chunky Monkey" variant, produced by the company itself. The details that characterize the packaging are transformed and applied throughout the silhouette, such as the cow-stained pattern made in pony hair, clouds or the Nike script placed on the back tabs with the same font adopted by Ben & Jerry's. Other details are light blue and green colours, which represent the sky and the lawn.
The design is completed by the yellow Swoosh, a tribute to the banana fruit - the main taste of the Chunky Monkey - and a rainbow pattern that dyes insoles and internal lining.
Due to the great demand, nss magazine has collected for you the list of stores where they will be released, with the relative sales way.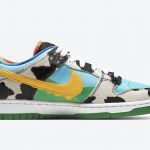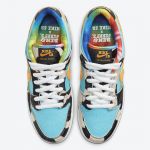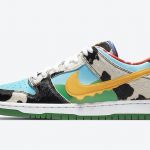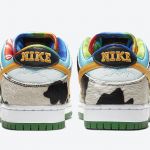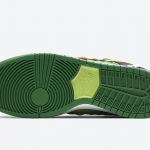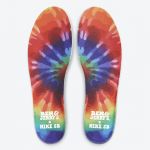 7Hills Store (Italy)
AcriminalG (Italy)
Big Air Lab (Italy)
Frisco (Italy)
Rufus (Italy)
Consortium (United Kingdom)
Flatspot (United Kingdom)
Focus (United Kingdom)
Kong (United Kingdom)
Civilist Berlin (Germany)
SHRN (Germany)
Lobby (Germany)
Bonkers Shop (Germany)
Blowout (Germany)
Orange Jungle (Germany)
TX Sports (Germany)
Pivot (Germany)
Buzzz (France)
Circles Shop (France)
Empire (France)
Okla (France)
Riot (France)
Street Art (France)
Zeropolis (France)
Wall Street (France)
Lockwood (Belgium)
Olliewood (Luxembourg)
Beyond (Finland)
My Favorite Things (Finland)
Streetmachine (Denmark)
Miniramp (Poland)
Amigos (Spain)
Welcome Skateboard (Spain)
Rufus (Spain)
Streetlab (Sweden)
Ben-G (Netherlands)
Sparky (Netherlands)