Louis Vuitton and Virgil Abloh pull Michael Jackson inspired items
From the coming fall collection
It should have escaped no one at this point, that the documentary "Leaving Neverland" with claims of Michael Jackson's abuse of children have sent wide ripples throughout the world. Radio stations, artists, sports figures, actors, actresses and people in general, have distanced themselves from the former King of Pop. Many have wondered how Louis Vuitton and Virgil Abloh would deal with the fall out, as his coming LV collection is full of references to Michael Jackson. His signature Jackets, prints of the singer and his iconic loafers. The recent Virgil LV runway show had even been designed to look like the set of Michael Jacksons "Billie Jean" music video. Louis Vuitton has expressed their concerns over the allegations stating:
"We find the allegations in the documentary deeply troubling and disturbing," said Vuitton's chairman and chief executive officer, Michael Burke. "Child safety and welfare is of utmost importance to Louis Vuitton. We are fully committed to advocating this cause."

LV
And Abloh has also in a recent statement proclaimed the serious nature of the claims:
I am aware that in light of this documentary the show has caused emotional reactions. I strictly condemn any form of child abuse, violence or infringement against any human rights. My intention for this show was to refer to Michael Jackson as a pop culture artist. It referred only to his public life that we all know and to his legacy that has influenced a whole generation of artists and designers.

Virgil Abloh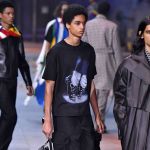 Though unclear exactly what impact this would have on the coming Louis Vuitton collection, an LV representative has now confirmed that the MJ inspired items from the upcoming Fall 2019 collection will not be produced.
"Louis Vuitton will make sure the collection purely reflects the true values of the brand and of our Artistic Director, and also that there is absolutely no item that directly features Michael Jackson elements, the men's collection has multiple inspirations and will be launched in stores in July."
We await further news on whether or not new items will take their place or how the collection will ultimately unfold.