The review of Celine FW19 fashion show
Old Celine parade on the catwalk of Celine's new FW19 collection
Before Heidi Slimane, before losing the accent, the sad abandonment of Phoebe Philo, and even before the first creative director Michael Kors, there was a Céline that communicated to the young Parisian ladies of the 70s, elegant, classy and bourgeois. After the wave of chaos generated by the arrival of Slimane and the apparent de-naturalization of the brand he started, we were ready to say goodbye forever to the autumn colors, the nude palette, the sweet chic femininity of Celine. But something happened yesterday during the presentation of the brand's new FW19 collection: Hedi changed the cards to the table once again. To go down the catwalk there is a line of clothing that, unlike the SS19, moves away from the one that we undermine as the "nature of Slimane", not much black, leather yes but this time in shades of brown, there is no Saint Laurent but an archive Céline, an Old Celine.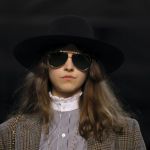 The designer has presented a collection that does not seem to be interested in current trends but, canceling the timelines, wants to talk to its first big love, the Parisian girl with boots, blazers and aviator glasses, that lives the everyday life being herself, going beyond fashion because she is the law. The guests in front-row were waiting for its super-short and cocktail dresses but, here again the breakthrough and a completely new way of being. Autumn nuances in its thousand shades, from light beige to mustard, to rust and leather. Pleated skirts below the knee, supported by thin leather straps and matched with gray sweaters and "good girl" shirts. Flakes, voilants and exposed collars, blazers, long coats, college style bomber jackets and skinny washed denim that we had not seen on the catwalk for several seasons.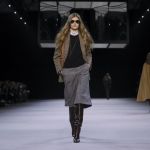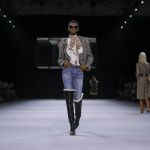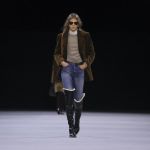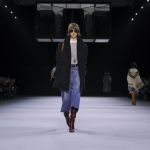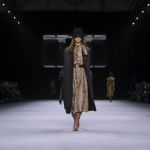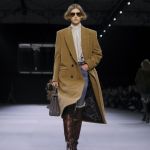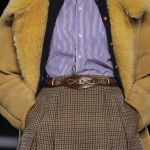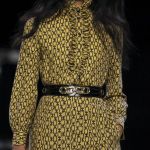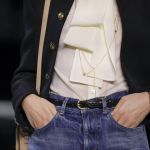 Best item? The oversized furs that surround the models and follow them during their walk communicating their elegance and strength.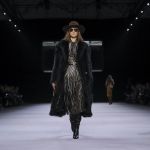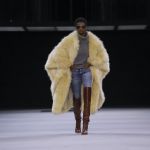 Has something changed, or even in this case is just a further parenthesis of the Slimane revolution? A simple tribute to the brand's archive? Will the golden mini dresses, the black coats, the total black and the rock come back? We'll see.