The great return of Prada Linea Rossa
The story of its history and bright future
For many of us who have long had a deep admiration for Prada, the discontinuation of Prada's original sports line, Linea Rossa, has been sorely missed. Introduced in 1997, it was the first time a luxury house ventured into athletic gear, and therefore so much ahead of its time when looking at the current infatuation between high fashion and streetwear. Perhaps too ahead, in that the decision was made to discontinue it in the mid-'00s to the disappointment of many, especially, younger fans.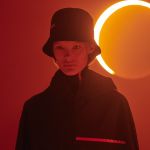 For Italians, in particular, the Linea Rossa came into people's consciousness around the early to mid 2000's where there was a huge interest in the America's Cup Sailing race which was presented by Prada, and especially when the charismatic captain from Napoli, Francesco de Angelis was seen adorned head to toe in Linea Rossa gear, it became a bit of an overnight sensation, especially among the more well-off lads of Napoli.
Prada Sport, as it is known in English, was also interesting with its connection to sub-cultures in other countries, championed by UK drum&bass and garage, it also offered groups of football fans to be associated with something other than Stone Island and CP. It became a winning trifecta for these cultures, where Prada's sleek designs, bit less expensive prices than the mainline, and with the practicality of sportswear, meant you could look sharp while still being able to rave all night.
When Prada in February of this year announced and presented the resurrection of Linea Rossa for the FW18 season, many of us were more than a little excited. With the current trend of luxury brands opening their eyes to the wants of consumers to have designer clothing with technical functionality, there are few brands that are as well suited to rise to the challenge as Prada. The new collection sees Miuccia Prada aiming more towards a younger demographic of street-oriented youth, where for a generation of smartphone-savvy Instagram users, haute couture, techwear, and streetwear have blended together and a new generation is eager to see collections presented with a coherent voice coming from each.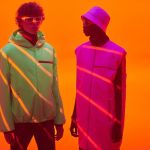 Each garment is super-functional, conceived thanks to a methodology that can really only be described as avant-garde, incorporating the most cutting-edge industrial and scientific processes in contemporary textile production to help guide design decisions, in a synthesis between form and function. The collection offers an entire wardrobe, from outerwear to footwear, up to a few pieces designed for the needs of specific activities, like skiing and snowboarding. And what would a Linea Rossa return be without its iconic red emblem? A symbol of an identity that connects everything together, it is created out of latex and applied inside a window cut into the fabric and thermo-sealed with a completely new procedure. The predominant approach here is characterized by minimalism, the garments have a clean, precise, and pure aerodynamics line. Technology is not tied to a particular group, so the range is largely unisex in design yet individually tailored for both men and women.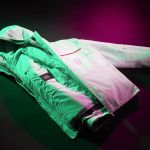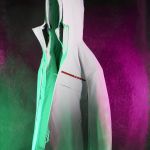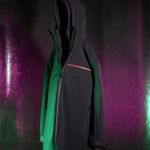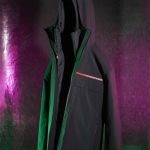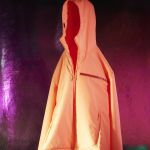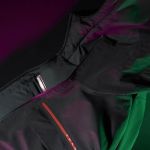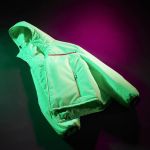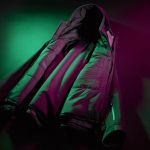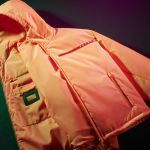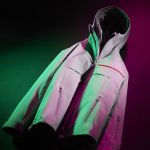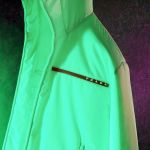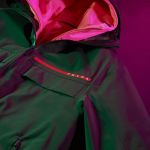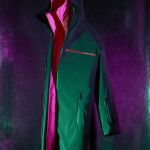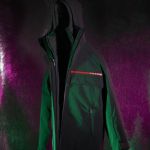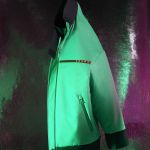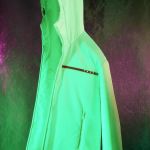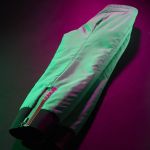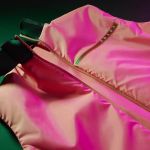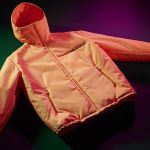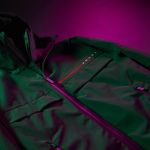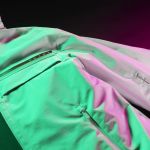 Above all it is the materials that distinguish the collection. With a high emphasis on its technical component, Prada has teased the hi-tech specs of the new range, incorporating nanotech fabrics that regulate body temperature, water-repellent microfiber Goretex Pro, Primaloft padding on the puffers are made, in part, of a substance derived from graphite, and 3L ultra-light nylon is glazed with the thinnest membrane in the world to fend off abrasions. The classic Tela Tecnica sportswear fabric by Prada has been revisited, made even more technical thanks to greater impermeability, wind protection with total breathability, and renamed Tela Tecnica Pro.
The emblematic Prada nylon comes reinterpreted in an updated featherlight reiteration. As a final proof of the technicality inherent in the collection, the Linea Rossa garments come assembled using advanced methods of thermosealing and are completely without seams. It is a new way of creating clothing, as well as perceiving them.
"Linea Rossa's identity is the perfect expression of several essential elements of the Prada DNA," co-chief executive Patrizio Bertelli told in an interview with BoF. The attitude to introduce fabrics, such as nylon — and refinements typically belonging to sportswear — into the everyday formal wardrobe embodies Prada's unconventional spirit."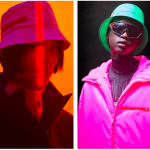 Prada has long gained much of its respect over the years for being a brand whos
technical prowess
was equaled with its great designs, and because Prada's mainline collections are in a price range the excludes them from many, Linea Rossa, with is more affordable price tags, meant it appealed to, and expanded, a younger demographic of consumers. Though it has been sorely missed, it is a smart move from Prada to reintroduce the line now with the current climate of
streetwear, fusing with luxury and techwear
being hotter than ever. With a
millennial and Generation Z
market only growing, we foresee strong years ahead for the legendary Milan brand.
Returning this fall/winter season the collection starts to drop early this month, stay locked to nss for the updates on the eagerly awaited return of Prada's legendary Linea Rossa.