Why you should keep an eye on Feng Chen Wang
The chinese designer presented her SS19 collection "My Half", with Converse and Levi's
In the middle of a New York Fashion Week that is currently underway (or rather suffering) the impact of an increasingly fast-fashion world, based on a business model directed by the consumer, on digital labels and Maisons with visionary creative directors who capture the daily 'attention of the public through the launch of capsules and collabs, there are those who, in its own small way, are rewriting the story.
The young London-based designer finalist of the 2017 LVMH Prize Feng Chen Wang, yesterday presented her latest SS19 collection in New York proving to have the right cards to challenge the big designers at their own game. Mixing styles, daring colors and letting unexpected clothes onto the catwalk: this is the wild card that is Feng Chen Wang. But that it was not enough. What will make everyone talk about this Spring / Summer collection are the garments that in their recognizability have witnessed how nowadays mixing different fashion ideas is the right strategy to triumph: we are talking about Converse and Levi's (x Feng Chen Wang) items.
My Half talks about a middle fashion, which mixes different cuts and ideas to find a balance. Two garments become one on the Feng Chen Wang catwalk, as we see with the denim jackets made with Levi's, almost asymmetrical, characterized by two different washed items that have joined and found their symmetry. The collars are placed not in their usual position but in the middle of a tee, the shirts are pierced on the chest and dominated by floating drapes that give movement and life to the head.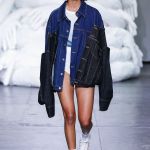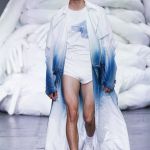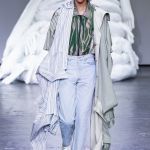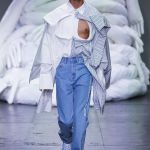 All this was still not enough yet, she had to collaborate with a brand that was street and sport at the same time, that was an icon of lifestyle and pop culture. Indeed Converse came into play with its Chuck Taylor All Star, a shoe that tells the story of everyone, that always accompanies us in everyday life and why seeing it on the catwalk means being naturally attracted by what belongs to us, what we can see is ours. Disassembled and reassembled the Converse follows the theme of My Half collection presenting itself with two uppers, two lacings (on the front and back at the heel) and with double lines on the tip.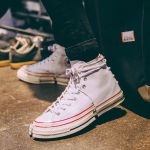 So why do we have to be curious about Feng Chen Wang? Because she is following very precise steps after having made an AJ 1 for the FW18 she has now gone over to
Converse,
because her brand transforms fashion into an experience and it dares, exaggerates, upsets but without mistakes. Does that remind you of someone? Starts with V...