Finally someone made the "Assassins" Sneakers by Homer Simpson
To create them, Mache Customs reworked a pair of Nike Air Monarchs
In the Season 2 episode of The Simpsons titled Bart's Dog Gets an F., Homer goes to the mall and returns home with a couple of very expensive "Assassins" Sneakers, but it's a shame that soon after Santa's Little Helper Christmas, the family dog, reduces them to shreds.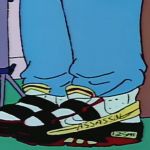 Now those shoes become real thanks to
Mache Customs
, who managed to create them by reworking a pair of
Nike Air Monarchs
.
The sneakers have a captivating look that reflects the cartoon version: chunky silhouette; upper in black, red and yellow; written "Assassins" in Simpsons style on the yellow part; red midsole; velcro straps.
"Thought I'd do my own twist on this whole dad shoe, Sharpie-style custom thing that's been going on by mixing the Asssassins from the Simpsons — one of the most coveted shoes to have never existed with one the greatest dad shoes to ever exist, The Air Monarch. Obviously this is for fun, so don't take these too seriously, but I hope they give you a good laugh", wrote the shoe artist on Instagram.
But we are sure that the famous cartoon's fans hope the sneakers are really made and put on sale.