Kanye West is one of the stars of the new Helmut Lang campaign
Together with Solange Knowles and other brand fans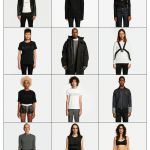 Kanye West loves Helmut Lang.
He declared it openly in 2015 before the debut of his Yeezy and now, a couple of years later, the brand returns the estimate by choosing the pop star as the star of its latest advertising campaign.
For the launch of the Kanye Re-Edition line, together with Solange Knowles and Yohana Lebasi of Vogue and other multigenerational collectors of Lang were photographed by Ellie Uyytenbroek and Ari Versluis of the team of Exactitudes wearing a mix of archival pieces, re-edition or new clothes designed by Shayne Oliver.
For example, West features elements from his personal collection, while Beyoncé's sister mixes re-edition, a T-shirt by Tom of Finland and the new shorts created by Oliver.
A curiosity: it is the first time that Versus and Uyttenbroek, famous for photographing groups of people with similar aesthetics and obsessions in portraits set in a grid, collaborates with a fashion house.