Virgil Abloh supports Planned Parenthood cause
Off-White's designer and the artist Jenny Holzer merge to create a limited edition of tee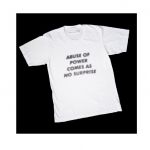 After the Donald Trump's triumph during the American presidential election, the well-known collective Planned Parenthood, risked losing important funding because of the 'different point of view' of the new president of the United States of America.
However, supporting the causes of Planned Parenthood has intervened one of the most influential brands of the year: Off-White. The designer Virgil Abloh and the artist Jenny Holzer have thus combined their talents to support the non-profit organization and create a project that merges the two realities to promote another. The result? Basic tee in limited edition with Planned Parenthood statements printed black on white: 'Abuse Of Power Comes As No Surprise', or 'Abuse Of Flower Comes As No Surprise'.
Of course, this is not the first time that the two have come together in a creative way, indeed they have already collaborated on the Off-White SS18 collection with an orange shirt with the words 'I'll Never Forgive The Ocean'. Clear and direct messages that do not allow interpretations. The cause is one and the problem too. The purpose? Sensitize and react.
The tees will be available from December 4 and all proceeds will be allocated to Planned Parenthood LA.