Gucci: no more fur starting from the SS18 collection
And starts to support the Unicef project "Girls' Empowerment Initiative"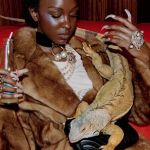 No more animal fur at Gucci.
The announcement comes directly from Marco Bizzarri, President and CEO, during Kering Talk 2017 at the London College of Fashion:
"Being socially responsible is one of Gucci's core values, and we will continue to strive to do better for the environment and animals and we hope it will help inspire innovation and raise awareness, changing the luxury fashion industry for the better".
In partnership with Lav and The Humane Society, Gucci says stop to the use of fur beginning with the SS18 season and becomes part of the Fur Free Alliance, an association that is fighting to reduce the use of cruel practices against animals fur, specially bred or captured.
In addition to this fashion revolution, the Florentine brand supports Unicef's "Girl' Empowerment Initiative" project in defense of weaker women and gives 1 million euros to directly help more than 50,000 girls through dedicated programs and reach indirectly more than 150,000 girls.
A strong signal of equality shared by Alessandro Michele, as Bizzarri emphasizes with these words:
"Together, by committing to a culture of purpose, taking responsibility and encouraging respect, inclusivity and empowerment, we want to create the necessary conditions for a progressive approach to sustainability".