A series of new Art Wall celebrates the fragrance Gucci Bloom
Two unique works by Ignasi Monreal in NYC and Milan
Artistic initiatives continue to celebrate the launch of Gucci Bloom, the first fragrance of the Maison under the guidance of creative director Alessandro Michele.
This time, the protagonist of the new Art wall project is Ignasi Monreal, who will create two unique artworks in the cities of New York and Milan, visible until the end of November.
The Spanish artist will express the beauty and uniqueness of the almost forgotten art form of hand-painted outdoor advertising illustrating his vision of the urban garden concept inspired by Gucci Bloom: a giant version of the rose flask of fragrance and of its packaging, featuring the Herbarium motif, in addition to the main ingredients of the fragrance, in a picture that recalls the Vanitas genus of Dutch dead natures of the XXVII century.
The canvases? A 760-square-foot wall at Lafayette Street in the New York City neighborhood of SoHo, and a 176-square-meter wall at Largo la Foppa, in the pedestrian area of Corso Garibaldi in Milan.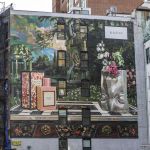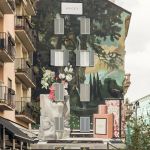 The Gucci Bloom app will include a photo filter and a related software that will allow users to "read" the wall, thus accessing additional fragrance stories. Moreover, in the US the Florentine brand has activated a Snapchat lens available throughout the national territory during the inaugural period Wall Art in New York City, which will coincide with the New York Fashion Week.