Gucci won $ 9 million in a lawsuit for counterfeiting
About 100 sites who sold fake items with the Gucci's trademark were severely punished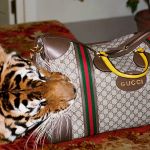 While we were all focused on the amazing Gucci dresses, on its flamboyant advertising campaigns, and on its Instagram memes, we didn't notice that Alessandro Michele's brand was fighting, and winning, an important lawsuit, which awarded the brand with more than $9 million.
Recently the Gucci America Inc. company won a lawsuit against eighty-nine websites operating out of China, guilty of selling counterfeit goods, and have passed them off as genuine Gucci. The Florida judge who followed the case has ordered every single website to stop immediately and permanently all illegal activities and to pay $100,000 each to Gucci for falsifying and selling items with the brand's trademark.
The company has not yet issued a public statement about it, but from its original complaint who started the lawsuit, appeared on WWD, we can read:
"The recent explosion of counterfeiting over the Internet has created an environment that requires companies, such as Gucci, to file a large number of lawsuits, often it later turns out, against the same individuals and groups, in order to protect both consumers and itself from the ill effects of confusion and the erosion of the goodwill associated with the Gucci brand".