Give me five: the best five moments of New York Fashion Week FW17-18
New York Fashion Week FW17-18
This is not America. Many cries it during this fashion week just ended. Write it on T-shirts, on sweatshirts, on pants. The designers tell, each in their own style, dissent towards a country where struggling to identify. You breathe Trump on the catwalk, you breath desire for justice, inclusion and not exclusion. Here are the most interesting collections for nss.
10:00 AM. Midtown. On 39th street in the heart of New York in a work of art set-curated by Sterling Ruby, is staged the new Calvin Klein imagined by Raf Simons
. The Belgian designer creates a collection that goes beyond the mere collection of dresses to become a cosmopolitan reflection on America.
"It reflects the enviroment
- says the new Chief Creative Officer of Calvin Klein -
all of these different people with different styles and dress codes. It's the future, the past, Art Deco, the city, the American West. All of these things and none of these things. Not one era, not one thing, not one look. It is the coming together of different characters and different individuals like America itself"
. While David Bowie sings "This is not America", the colors light up, the tissues multiply, styles overlap. Purple, red, green, yellow are layered, such as feathers and metal flowers, western shirts and turtlenecks, coat plated and double-breasted jackets, tops naked and shiny skin effect. Anna Wintour in the front row,
Millie Bobby Brown
,
A$AP Rocky
, Gwyneth Paltrow and all the others applaud.
Raf Simons in the backstage smiles satisfied
.
Lacoste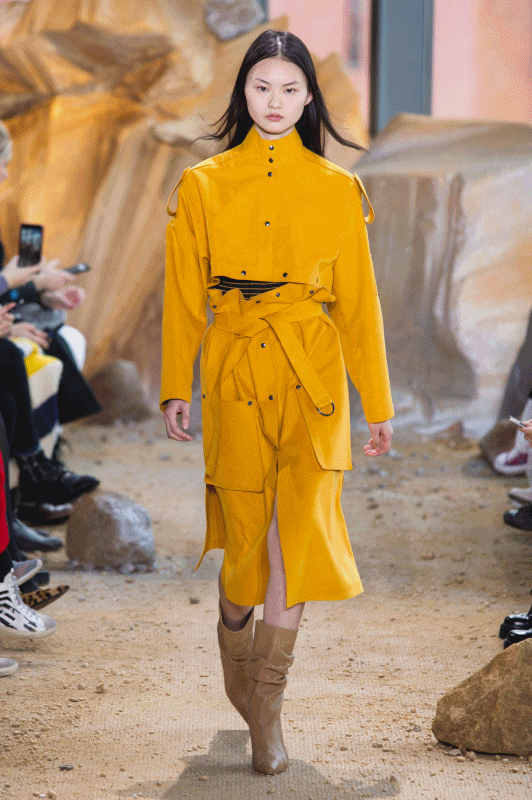 Gli eroi dell'aviazione, i pionieri dell'era spaziale e Kurt Cobain. Lacoste veste la sala del civico 50 di Varick Street come un paesaggio lunare abitato da capi che evocano universo e grunge. Ci sono lo streetwear anni 90, le camicie a quadri in lana spazzolata e i cardigan in mohair del leader dei Nirvana, insieme alla luna piena e a Saturno delle stampe dell'artista Ron Miller, l'ispirazione militare degli abiti-kway e delle giacche reversibili (da un lato nylon waterproof, dall'altro lana e lino) insieme a pezzi athleisure formati da patchwork di velluti laminati. Comfort, funzionalità e modularità sono i concetti chiave della stagione invernale 2017, incarnati da soluzioni hi-tech e modelli reversibili. Si moltiplicano così le tasche, gli scomparti, il mix di materiali, le imbottiture, le finiture termosaldate. Silhouette e dettagli guardano verso il futuro, ma arrivano dal passato, dalla storia del marchio e del suo direttore creativo. Il punto di partenza della collezione infatti sono gli astronauti ed i piloti di aviazione, come il padre di Felipe e lo stesso Renè Lacoste. In pochi sanno che il fondatore del marchio, al termine della sua carriera sportiva, lavorò nell'industria aeronautica, occupandosi delle prime traversate atlantiche, con l' "Air Equipment", società precursore di Concorde e Airbus.
Alexander Wang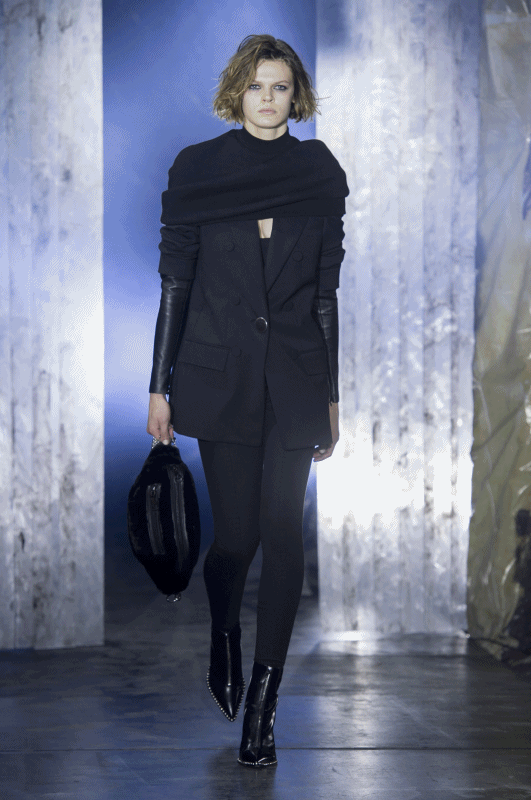 Harlem. RKO Hamilton Theatre. An ancient 1912 theater in ruins with ornate ceilings turns into an underground club with intermittent red lights, rap music and waiters who serve beer (Peroni) to the public. Alexander Wang calls his gang of models and it girls, from Bella Hadid to Natalie Westling, from Kendall Jenner to Julia Nobis, to interpret a contemporary dark fairy tale. Black, broken by the Prince of Wales suits and coats, cloaks almost every garment: skinny pants, leather hot pants, oversize cardigans, shirts, blazers, denim, spandex, mesh. The must pieces hide among the accessories, such as bags-crystal waterfalls, stiletto boot or those in fur and tights with the inscription "No After Party" (the title of the collection). Wang dresses young rebels with skinny body, sensual and with strong attitude, feminine, self-confident.
Gipsy Sport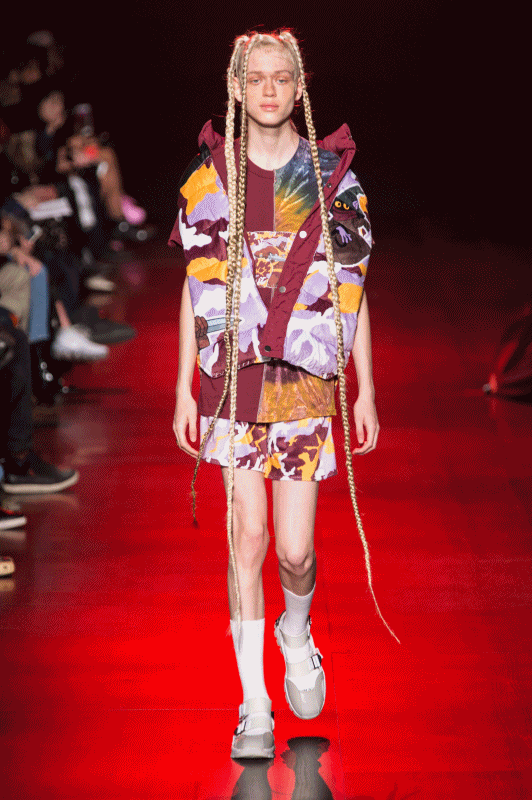 Rio Uribe, Gypsy designer Sports, takes things that "ignores too often" as injustices, the tent cities of the homeless, the refugee camps and the centrifuge with the Burning Man festival and punk subcultures to create a collection in tribute to outdoors. It's a celebration of life, activism, emergency, urgency, cleverness as a vehicle for creativity. The cape-shaped windbreaker , the camouflage prints, patchwork, the deconstructed garments, safety pins, the tie-dye hoodies, the oversized tee, jumpsuits, warm fabrics ( from pile to Velvet ) are an underground mash -up between a survivalist and a hippie. While the catwalk alternate models, most recruited to many political demonstrations of recent months (from the women marching to that against the Muslim ban), the effect is alienating, almost disturbing, but it is hard to look away. As it is difficult to ignore Uribe's words: "I learned so much from speaking to people who live outside. I've learned so much about humanity. I think we're actually a very loving people who want to help each other, but sometimes that's not what is preached to usò. Let's fight for a new world, a decent world, one where we can make room for each other".
YEEZY Season 5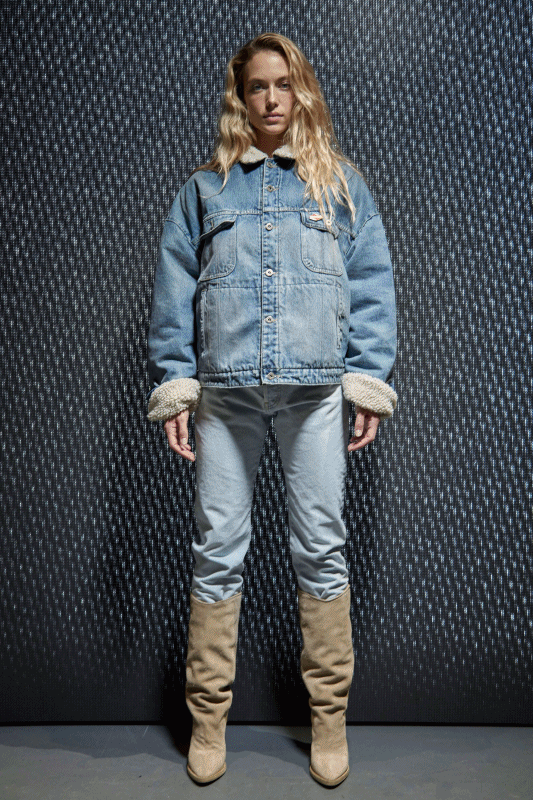 Pier 59. The audience is moving in a completely dark room in search of his seat. In many, mindful of the last time bad experience, they declined the invitation, but the ones that count are there: Anna Wintour, Emmanuelle Alt, Edward Enninful, Carine Roitfeld and the inevitable Kim Kardashian dressed in aubergine. YEEZY returns to New York to present its Season 5. The expectations are mixed: some believe that the brand does not have much to say, other that could still surprise positively. What is certain is that Mr West has much to be forgiven after the disasrous last show, after the personal problems, rumors of his demise not only nervous, but also (maybe) creative and the misunderstanding with the booking on the fashion week schedule. This time, no Vanessa Beecroft, nothing Kanye, who remains hidden in the backstage and much less ego on the catwalk. All the looks are also projected onto large screens. The declared inspiration is Calabasas, rapper's refugee in California, present on oversize hoodies. From last season remain the street style soul, the Athleisure base and military touch, sneakers and boots that now carry over loose fit pants, while for the first time YEEZY introduces denim.