Frida Kahlo goes to Tokyo
@ Shiseido Gallery
Internationally renowned artist, indomitable spirit, convinced communist, style icon. There are many ways to describe Frida Kahlo, but each of them seems to be too limiting and trivial to define such a unique woman.
The theorist of Surrealism André Breton defined her art, tracing along the contours of her person: "a bomb wrapped in a silk ribbon".
Explosive, feminine, strong, fragile, unforgettable. Her image is iconic, even for those who don't know her work, imprinted in the collective memory of our generation.
Now the photographer Miyako Ishiuchi explores Frida through a series of images that portray her clothes and personal items, on display at the Shiseido Gallery in Tokyo from June 28 to August 21. It is a unique event, because after Kahlo's death in 1954, her husband Diego Rivera locked her entire wardrobe inside their Blue House in Mexico City, where the couple lived, at least up to fifteen years after his disappearance. When the house was opened in 2004, Ishiuchi was one of the first to enter it, and photograph her corsets, jewelry, boots-implants and the rest of that hidden treasure.
Here are 5 curiosities you may not know about Frida Kahlo.
#1 Frida's crash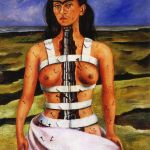 While travelling on a wooden bus with her first boyfriend, Alejandro Gomez Arias, there is a terrible collision with a tram. A handrail passes through her body coming out of her vagina. The incident breaks her spine in three points, her neck, her third and fourth ribs, her left leg, pelvis, the right foot is crushed, the shoulder dislocates. Frida begins an ordeal of tens of surgery and years nailed to the bed, caged in corrective busts. Before the collision the girl is a medical student, after the long convalescence she becomes a painter.
#2 The dress: Tehuantepec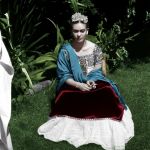 "...For Frida the clothes were a kind of language [...]
Her favourite costume was that of the women of the isthmus of Tehuantepec, and there is no doubt that the legends of which they were surrounded had informed her choice: the women of Tehuantepec are famous for being solemn, beautiful, sensual, intelligent, courageous and strong. The folk tradition has it that theirs is a matriarchal society where women manage the markets, dealing with tax issues and dominate men.
Their costumes were lovely: an embroidered shirt and a long skirt, usually purple or red velvet, with a white cotton ruffle hem. Among the accessories there are long gold chains or necklaces of gold coins, which make up the dowry laboriously sweaty girls, and for special occasions an elaborate headdress hair".
From the book by H. Herrera Frida: The life of Frida Kahlo.
#3 La Casa Azul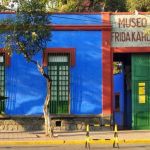 The painter was born, lived and died in the same house, that of her family in the Cologne region of Carmen Coyoacan in Mexico City. Nicknamed by locals "the Blue House" for its external cobalt blue walls, so painted for magical function against evil spirits that the pre-Columbian cultures attributed to that colour, in 2004 became a museum exhibiting a selection of her works and objects from the personal life of Frida.
#4 Selfportraits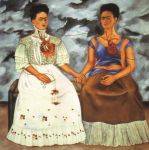 "I paint myself because I am so often alone and because I am the subject I know best".
Of the 143 paintings by Kahlo, 55 are self-portraits.
#5 Frida & Diego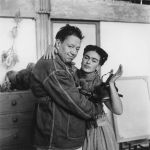 Frida met Diego Rivera in early 1928. The two fall madly in love and get married on August 21, 1929.
He is 42 years old, she's 22. Rivera cheats on her all the time, she bears, until she discovers his affair is her sister Cristina. The unbearable pain forces the painter to get a divorce. Only one year later Diego returns to Frida declaring that he had never stopped loving her and the couple gets married in San Francisco in 1940, but with some conditions: she would no longer accept money from him and they would have no more sex.
From that moment she starts to be unfaithful. Among others, she had relationships with Leon Trotsky, André Breton and Tina Modotti.