Why we're obsessed with Conversation Pits
Symbol of interior design 70s have found a new youth online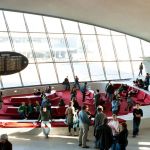 You know those American houses where the living room is a single hollow in the center of the room? If you know what we're referring to, that's a Conversation Pit, one of the cornerstones of 70s architecture that has made a comeback thanks to the passion for vintage design that has exploded online. From Twitter to TikTok, the lounges of the past have become a topic of discussion, probably thanks to their timeless design, unthinkable for the homes and spaces we are used to today. Become famous in the '70s, the Conversation Pits were actually born in the '50s, when the end of the war and the economic boom in the United States had made the real estate market take off, giving rise to numerous ranch houses in the American suburbs. At a time when "a house was forever", the idea of the Conversation Pits was born from the need to simplify the design of homes, creating a defined space without the need to use any type of furniture.
Among the most famous examples there is certainly Miller House, designed by modernist architects Eero Saarinen and Alexander Girard in which inside the living room there is a real "pit" bordered by pillows in a perspective that over the years will be reversed with the arrival of sunken living rooms, "lowered" living rooms born as a compromise more sober and made famous especially thanks to the Dick Van Dyke Show. Symbol of home interior design, among the various famous appearances of the Conversation Pit deserves a mention the one created by Saarinen in the TWA Flight Center in New York, where the concept used for private residence meets the public space to create a giant waiting room.
The comeback of Conversation Pits is actually tied to a total rediscovery of vintage furniture and design, a trend born thanks to the pandemic and exploded in the following months. An example is certainly the Dune by Pierre Paulin, the sofa loved by Frank Ocean and Kanye West, but just take a ride on TikTok to find dozens of profiles dedicated to the search for vintage design pieces in a tribute to the past that reminds us once again how the last two years of pandemic have made us even more notalgic than we already were in the past, leading us to give value to a culturally dry decade like the 2000s but also to rediscover some of the most important names in design and architecture of the past.