'The Frame' of Dubai
The pharaonic structure that frames, like a painting, the skyline of the Arab metropolis
15,000 square meters of gold coating.
More than 2,900 square meters of laminated glass.
150 meters high.
A 93-meter observation deck.
For a company cost 43 million dollars.
These are just some of 'The Frame' numbers.
Inaugurated last January 1st, the impressive building is just the latest in a series of megaprogetti designed to make Dubai unique, like the Burj Khalifa, the tallest skyscraper in the world opened in 2010, the Burj Al Arab with its iconic sailing shape or Aladdin City, an original residential complex inspired by the famous lamp and the Tower star architect Santiago Calatrava, both soon to be realized.
It is, as the name suggests, a structure in the form of a rectangular frame, made of glass and steel, covered with panels and golden decorations.
Located in Zabeel Park, this curious piece of architecture provides, through a scenic bridge in which you can walk, a 360-degree skyline
of the city, from the old city of Deira to the north to the towers of Sheikh Zayed Road to the south.
Every day, from 10 am to 7 pm, after paying a ticket costing 50 dirhams, visitors can choose whether to climb the panoramic lift up to the Sky Deck level to reach the bridge or stay on the ground floor. Here, after running a neon "vortex" tunnel, you can admire an interactive exhibition on the future of Dubai, with augmented reality screens that offer glimpses of the United Arab Emirates of the future, a way according to the organizers to "create the illusion of a journey through time through a deformed vortex to imagine the city in 50 years".
So, are you ready to grab your selfie sticks?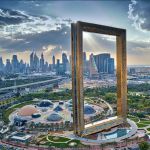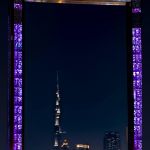 Fun facts: "The Frame" was and still is the center of a series of controversies. In 2009 a competition asked to think about what could be the new symbol of Dubai.
Among the 926 projects, won the one by the Mexican architect Fernando Donis: a frame of over one hundred meters high, to transform Dubai into a picture.