The Most Memorable Fashion Moments of 2016
Recap together!
Pills
December 26th, 2016
In a few days the year 2016 will be over. It's time to make analysis and nss decided to retrace the most memorable moments occurred this year in the fashion world. Hard to choose between another catwalk of Victoria's Secret angels, the show of Alessandro Michele for Gucci at Westminster Abbey or his victory as Designer of the Year at the CFDA Awards; between the explosive success of Demna Gvasalia and continuous turnover of fashion designers; between Rihanna in designer version or Lady Gaga model for Marc Jacobs.
#1 Designers turnover fever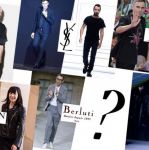 Ever hear of the domino effect? That chain reaction that occurs when a change, even small, produces another similar setting off a linear sequence, such as the fall of the cards in the game of dominoes? The same thing happens for a couple of years among fashion designers. One is fired or decided to leave the label for which he works and, shortly after, it's up to another and so on up to draw new balances between the various fashion houses. It's over the period of the great visionary designers, there is no time to incubate ideas, the pace is ever tighter, the collections to realize multiply and big brands want a talented, charismatic and especially business -oriented creative director. If in 2015 the most important breaks were among Alexander Wang and Balenciaga, Raf Simons and Dior, Alber Elbaz and Lanvin, Frida Giannini and Gucci, in 2106 Hedi Slimane left Saint, Maria Grazia Chiuri Valentino, the brothers Capasa, Costume National, Peter Dundas Roberto Cavalli.
#2 Riri Hits Paris Fashion Week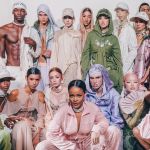 On September 28, at the Hotel Salomon de Rothschild, during Paris Fashion Week, Rihanna presents the SS2017 Fenty collection, the brand designed by the singer for Puma. Inspiration? "Marie Antoinette if she went to the gym". Models on the catwalk wear a profusion of pink and pastel colors, satin, corsets, lace, pearls, hoodies and tracksuits. It's eighteenth century Athleisure.
#3 Lady Gaga for Marc Jacobs's Fall 2016 show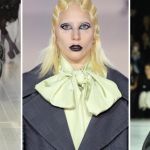 Dark lipstick, heavy makeup and 20s hairstyle, mxi coat, blouse with an oversized bow and vertiginous silver boots. Lady Gaga turn into runway model for Marc Jacobs. Pop star appearance is the best cameo in this year's fashion shows.
#4 Maria Grazia Chiuri is Dior First Female Creative Director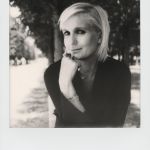 Maria Grazia Chiuri leaves Valentino and the partnership, which lasted 26 years, with colleague and friend Pierpaolo Piccioli to become Dior first woman creative director. September 30, 2016 in Paris the Italian designer made her debut with a collection inspired by Luchino Visconti's "L'innocente". "I want to talk about today women - Chiuri explains - accompanying them in their transformations. And I chose fencing because here are overcome many stereotypical categories; in fencing there is balance between thought and action, between heart and mind. The uniform of the fencers is protective and elegant".
#5 All eyes were on Demna Gvasalia this year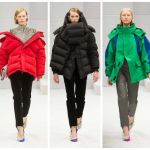 Demna Gvasalia is the name to remember. If you have not already learned it in 2016 practice to pronounce it. Born in 1981, with Georgian origin and German nationality, graduated from the Royal Academy of Fine Arts in Antwerp, this young designer has immediately conquered the fashion world with Vetements, his brand which combines streetwear and deconstructionism, recreating oversized volumes and using unexpected materials and textures. The man after working at the Maison Margiela, Louis Vuitton and have obtained a lightning success with the label he founded, this year became the new creative director of Balenciaga. In his first collection for the maison of Monsieur Cristobal Gvasalia has been able to mitigate brand's most classic elements with his street, contemporary taste, matching puffers and sports jackets with plaid or tweed suits, curved sleeves and rounded silhouette, mixed with original accessories, such as colored maxi glasses chains and boots in patent leather.
#6 Kate Moss second life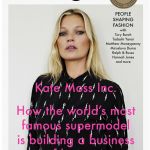 At 42, Kate Moss begins a new life. Last April, the divine English left the Storm Model Management, the company that launched her career in 1988, to open her own fashion agency. "I felt like I wanted to do things that were more than modelling. It didnít matter how much we would try and do it together with them, I was always going to be the little Kate that theyíve known since I was 14 - she said interviewed by BoF, explaining the reasons that led her to this new adventure - As a modelling agency, they book models to do a job. Youíre not as associated with the brand, youíre just the face-of. But to do a collaboration and put your name on a product is a big thing for me. Itís something I need to believe in". Finally she added: "I want to focus more on managing peopleís careers than just [running] a modelling agency. I donít really want pretty people, I want people that want to sing and dance and act ó I want to create stars". The Kate Moss Agency has already found two young talents: Elfie Reigate who made her debut on the catwalk for Alexander McQueen during Paris fashion week and Louis Baines.
#7 Lily Rose Depp is still the coolest teenager in town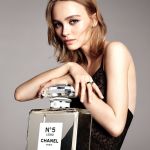 If for his father Johnny 2016 was a disastrous year because of divorce from Amber Heard and, above all, of domestic violence allegations, for the little Lily Rose were 366 sensational days, at least for her working life. Do not believe it? She has shot three films, "Yoga Hosers" directed by Kevin Smith, "La danseuse" in which she plays the dancer Isadora Duncan, "Planetarium" starring Natalie Portman, and presented them at the most important film festival in the world that is Sundance, Cannes and Venice. She posed for dozens of photo shoots, editorials and magazine covers, the last with Karl Lagerfeld for December Vogue Paris. Kaiser Karl has elevated her to his muse, as happened to the beautiful mother Vanessa Paradis, choosing the girl to model at Chanel Metiers d'Art show and, above all, as the face of the famous perfume Chanel N°5. With those genes is sure that for Lily this is just the beginning...
#8 The rise and rise of the Hadid Sisters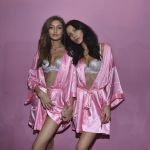 This year Gigi and Bella have vied with each other to achieve the greatest successes. The first has walked the catwalks of 27 shows, including Chanel, Balmain, Isabel Marant and Versace, while the second "only" 24. Both have appeared in dozens advertising campaigns, editorials, illustrious covers and participated at Victoria's Secret show, but only the eldest wore the coveted wings and posed for the cover of Vogue US. Both have become designers of their fashion collection, Gigi for Tommy Hilfiger and Bella for Chrome. The blonde debuted last November as host at the American Music Awards, parodying the new first lady Melania Trump, while the brunette inaugurated the first day of Sexy Love magazine Advent calendar. Finally in December Bella has won the title of Model of the Year, Industry Choice, while Gigi the one of Model of the Year Readers' Choice Runner-Up.