The Skate & Surf Film Festival opens today in Milan
From May 9 to 12, at BASE
It will open today at BASE, in via Borgognone, 34 in Milan, the third edition of the Skate & Surf Film Festival, the sports and cultural event dedicated to the Italian surf and skate scene: four days of screenings, music, talks, contests and skate sessions.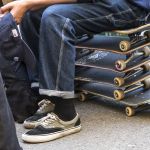 From May 9 to 12
there will be screenings and previews of movies dedicated to the skate and surf world, along with different skate contests (on a half-pipe made for the occasion), as well as an art show featuring the work of artists and photographers, and finally live performances and DJ sets.
The schedule of events and screenings is incredibly busy. Everything will start tonight with The Tony Alva Story, the documentary dedicated to one of the founding fathers of modern skateboarding, who at 61 years old is the most long-lived pro skater in the world.
Vans
, the brand that can boast the deepest bond with the skate and surf universe. The day will start with the screening of
How To Survive A Skate Tour
, a kind of guide on how to survive the craziness of a skateboarding tour, shot in Fuerteventura. The evening will go on with the
Vans Best Trick Contest
, which will see the participation of skaters coming from across Italy, who will face a ramp designed for the occasion.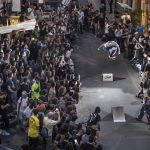 During the days of Saturday and Sunday, you'll have the chance to catch a great number of movies, from
Skate Kitchen
by Crystal Moselle,
Water Attitude
by Tommaso Tagliaferri, to
Please Have Fun
by Kevin Jansen and
Beyond The Noise
by Andrew Kainader. The best movies will be awarded at the end of the festival.
The Skate & Surf Film Festival is a unique occasion to discover and learn more on the skate and surf universe, through a journey that goes well beyond the mere sports, becoming also culture and art. Here you can find the full program of the festival.