nss 90s: Winona forever - the story of a love that has become a legend
Winona & Johnny aka the 90s couple format
Before Kate Moss, before Vanessa Paradis and certainly before Amber Heard, there was her, Winona.
It's the 90s and Johnny Depp is not yet Jack Sparrow, nor, let alone, the man in decline who has been reduced to be in the last period. He's beautiful, alternative, at the beginning of a promising career, star of the show 21 Jump Street and, above all, is in love.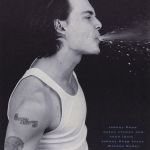 The girl who stole his heart has alabaster skin, raspberry lips and large fawn eyes. The first time he sees her is June 16, 1989, at the Ziegfeld Theater in New York City, during the premiere of Great Balls of Fire. She arrives aboard a pink Cadillac, wrapped in a white skinny minidress by Giorgio di Sant'Angelo.
It's a vision and Johnny cannot help but stare at her, kidnapped.
Her name is Winona Ryder, a very young and talented actress who is about to become the face of an entire generation.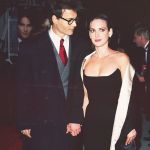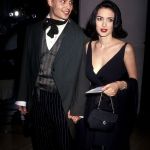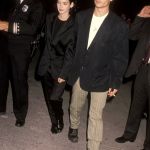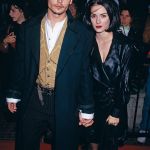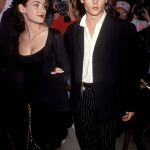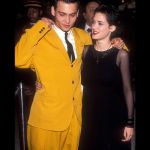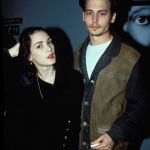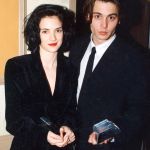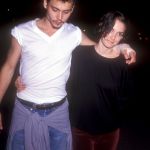 They meet again thanks to a mutual friend at Chateau Marmont, then it's the turn of the first real appointment, at a party in the Hollywood home of the counterculture guru, Timothy Leary, the godfather of Winona. A month later the couple lives together, between hotels and apartments for rent. Five months after their meeting, the marriage proposal and the official engagement arrive.
It is the beginning of a legendary love story, made up of great declarations and romantic gestures.
"When I met Winona and we fell in love, it was absolutely like nothing before. We hung out the whole day... and night, and we've been hanging out ever since. I love her more than anything in the whole world"- explains Johnny and continues -"I'd die for her. I love her so much. I don't know what I would do without her. I love her almost more than I love myself. There's been nothing in my 27 years that's comparable to the feeling I have with Winona".
She says:
"I need him to stay with me. If it cannot be with me, I have to have some object that reminds me of it, like one of his T-shirt, necklace, bracelet or even a picture ".
Candida, long after their separation, confesses:
"When I met Johnny, I was pure virgin. He changed that. He was my first everything. My first real kiss. My first real boyfriend. My first fiancé. The first guy I had sex with. So he'll always be in my heart".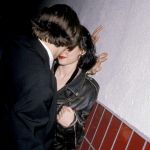 For his "Babydoll", as he fondly calls her (she has nicknamed him "My Tattooed Boyfriend"), Depp does not spare himself. Breakfast is prepared every day: eggs, hash browns, toast and coffee. For her eighteenth birthday, she gives her debutant pearls and a diamond watch; while away, busy on the set of "Benny and Joon", one sends two hundred colored balloons.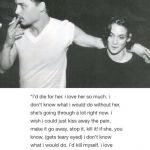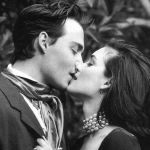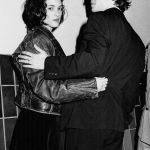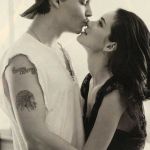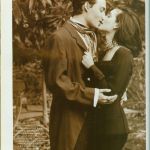 The "extreme" gesture, the manifestation of their love, is, however, another.
It is the now legendary "Winona forever" tattooed on the right bicep and paid $ 75 at Sunset Strip Tattoo, the one that, after the break of the two, become "Wino forever" (aka "drunk forever" ... a forecast of actor's decline?).
And if you ask what their song is, know that there are at least two: Take my breath away by the Berlin and Crazy for you by Madonna.
Johnny and Winona, are almost one of the other's mirror: untidy hair, scruffy look, air of stars, unconventional (in appearance and roles interpreted) enough to be sold by Hollywood as "alternative".
Both very young, beautiful and incredibly cool.
Together they are a perfect couple.
The most beautiful boy in the world with the most beautiful girl in the world and the most beautiful love in the world.
With the release in the halls the dark tale Edward Scissorhands, a "wedding" blessed by Tim Burton, Depp and Ryder become the Romeo and Juliet of the 90s.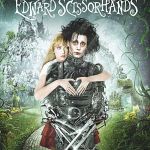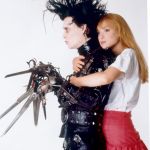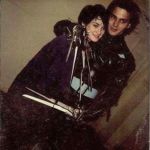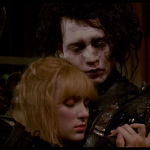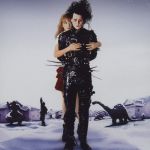 And, as such, they are destined for an unhappy epilogue.
Ok, no one is dead, but, in 1993, crushed by the pressure of the press that follows them non-stop and that of Noni's parents who, while adoring Johnny, reputed the daughter too young (at the beginning of their lovestory she is 18 years old, him 27) for a serious commitment like marriage, their relationship ends.
Both have a broken heart and console themselves with others.
Depp meets Kate Moss, giving way to a turbulent and rock'n roll couple, while Winona finds refuge in a pseudo infinite series of arms.
Any name in random order? Daniel Day-Lewis, Matt Damon, Jimmy Fallon, Dave Pirner of Soul Asylum, Ryan Adams (who dedicates Cry on Demand), Beck (who writes about her on Lost Cause), Conor Oberst, Pete Yorn, Dave Grohl.
The list contains so many musicians that, at the time, Courtney (another female icon of the 90s) is used to declare "Kurt is leaving me for Winona" or "you're no one in music until you've feuded with me or slept with Winona".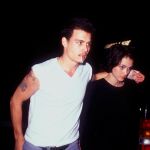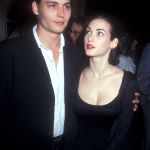 Many think that if Ryder and Depp were together, she would never become a "girl interrupted" and he would avoid the marriage to Amber Heard and the subsequent personal collapse.
What is certain is that they remain one of the coolest couples of all time, Hosanna from Millenials affected by nostalgia from Generation X, because, as Tavi Gevinson told Entertainment Weekly in 2014
"how I feel when I see pictures of teen Winona Ryder and Johnny Depp holding hands in leather jackets, like, nobody can match that".