Dior launches the mentorship program The Women @ Dior
The French fashion house opens the doors of avenue Montaigne to 100 female students from all over the world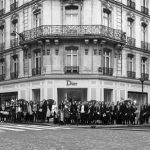 Not just words printed on a t-shirt, but facts.
After a series of collections dedicated to female empowerment, Dior goes to the facts and launches the mentorship program The Women @ Dior. On March 12th and 13th, the French fashion house gathered 100 fashion students from all over the world in its Avenue Montaigne headquarters in Paris and combined them with as many under 30 employees of the brand.
So, students of the best prestigious institutes such as Hec Paris, Essec, Polimoda, Bocconi and Central Saint Martins, accompanied by the young Dior's employee took part in a meeting guided by the "Education, Empowerment and Elevation" philosophy, were able to see for themselves the functioning of the brands, visited the archives and haute couture and prêt-à-porter ateliers, participated in workshops and exchanged ideas and questions with Dior Sidney Toledano's president and CEO.
Maria Grazia Chiuri, creative director of the fashion house, is enthusiastic about the mentoring program, launched in 2017, and declared:
"I have a daughter of twenty to whom I am very close. Thanks to her I am in contact with a new generation of women, a generation that can finally be players in the world. This makes me want to make fashion with them, accompanying them through their transformations."