Also James Franco has been accused of sexual misconduct
There are more and more women, and not only, who have the courage to speak and denounce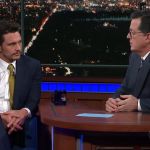 Sunday night, James Franco won the Golden Globe for best actor in a comedy for The Disaster Artist and when he took the stage to accept the award, many have noticed the Time's Up pin on his jacket as a symbol of the his supporting the initiative against gender violence in the workplace.
This choice has attracted the criticism of three women (Ally Sheedy, Sarah Tither-Kaplan and Violet Paley) who attacked the actor on Twitter, accusing him in various ways of harassment and abuse.
The hardest are those that Paley argues that Franco attempted to lure her friend seventeen in his hotel room. Her tweet:
"Cute #TimesUp pin James Franco. Remember the time you pushed my head down in a car towards your exposed pxxxx & that other time you told my friend to come to your hotel when she was 17? After you had already been caught doing that to a different 17 year old?"
The star replied like this during an episode of The Late Show with Stephen Colbert:
"In my life, I pride myself on taking responsibility for things that I have done. I have to do that to maintain my well-being. I do it whenever I know that there's something that's wrong that needs to be changed. The things that I've heard that were on Twitter are not accurate. But I completely support people coming out and being able to have a voice, because they didn't have a voice for so long. I don't want to shut them down in any way. I think it's a good thing and I support it."
An unexpected reaction, which, sincere or not, underlines the only good thing that emerged from all the violence and abuses that have filled the news in recent months: the reawakening of awareness of the right to denunciation that has led many women to break the silence on abuses.
It is this new and liberated era that we hope will become real, concrete and normal, a proper and necessary change in the mentality and in the society.
While on the one hand movements continue to emerge in support of the fight against any sexual misconduct, such as #TimesUp and #metoo, in France a hundred women, led by art critic and writer Catherine Millet, which includes the actress Catherine Deneuve and other writers, artists and academics, with an open letter, published by Le Monde, condemn the "witch hunt" following the Hollywood scandal that threatens sexual freedom. In the document, you read:
"Rape is a crime, but trying to seduce someone, even obstinately or clumsily, is not, as gallantry is not a machismo aggression".
All this happened a few days ago from another news story: Harvey Weinstein, was attacked in a restaurant in Arizona, a place where he has been in rehab for months, by another customer who was screaming "You're a piece of s ... for what you did to women". Karma?