Check out this stunning Prada catwalk
Designed by AMO
In the never-ending quest for making new and innovative setups for catwalk shows, Prada's menswear SS19 show really made an effort. AMO designed a space with many layers of cool detail. Starting with a grid that marked out the places for where the guests should sit, they were placed on inflatable stools, designed by Vernon Panton.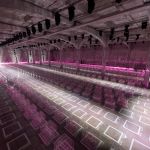 The grid system itself was ordered according to
Cartesian coordinates,
defining the areas designated to guests, whilst leaving three different access routes free for the models to walk on.
"A geometric pattern invades the room, a manifestation of the principles that organize the show's choreography, numbers and symbols define the exact positioning of the actors in the space, alluding to geographic coordinates of remote places. A regular grid of squares evenly organized in space obsessively cover the surfaces of the room. It serves as [a] blueprint to occupy the space defining the four trajectories of the catwalk, as well as, which of the squares should be occupied by the stools and therefore the guests. Different elements were used to enhance the graphic impact of the grid: the seating code and a set of coordinates that correspond to series of remote islands that somehow recall the mathematical approximation of geographic representation." AMO explained
The stools themselves, aren't backlight as they appear but rather from an array of scattered pink lights along the sides that gives the whole otherworldly look and stunning finish. Extremely well executed, the catwalk design aimed to "bring fashion to the foreground" instead of "explanatory efforts to contextualize collections."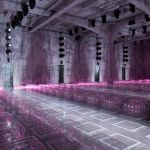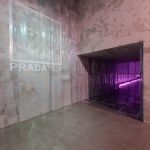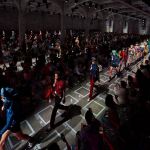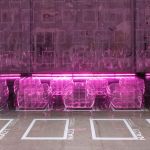 We love the look of this runway and can't wait to see what they do next!