Everything you need to know about the third season of Gomorra
Waiting for the first episode scheduled for tonight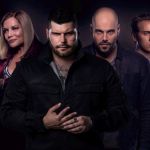 Pills
November 17th, 2017
Are you a fan of Genny, Ciro and Scianel?
Then Friday, November 17, in spite of all superstition, is a great day for you because on Sky Atlantic Gomorra backs with the third season.
The series inspired by Roberto Saviano's book, already taken on the big screen by Matteo Garrone, has now become a cult, capable of generating debates, ways of saying, parody, crossing the boundaries of the screen to enter the everyday language.
This almost Shakespearean tale of evil, of a society based on power hungry, find his fortune in a good screenplay, in an ad hoc director and actors with their skills make them even more charismatic already interesting characters on the paper.
While there are a few hours to airing unpublished bets, let's repeat what we know until now on what we are about to see.
#1. The third season consists of 12 episodes, which will be transmitted two at a time every Friday in primetime on Sky Atlantic.
#2. After the farewell of Stefano Sollima, the show is directed by Francesca Comencini and Claudio Cupellini who stated: «The third season of "Gomorra – Serie" was born from a reset. The balance and the characters told in the first two seasons have taken their own path which is at an end: Peter died; Cyrus lost his war and his family; Genny, after the birth of his son Peter, seems to have a free field in power management. In the six episodes I have directed in this new season I wanted to try to tell what I immediately thought was the shadow line of the surviving protagonists.»
#3. The story also will expand its geographic framework from the suburbs of Naples to Bulgaria, where Ciro, after killing Don Pietro and following the death of her daughter, takes refuge. In the third season,«the look is on the Scampie of Europe» - explains Roberto Saviano- «We will go to Bulgara, Mexico City, in Lagos: all the peripheries live the same size, that is, the grammar of violence and business. And it creates a strange circuit breaker: making certain mechanisms known to have been there. Gomorra's strength is precisely this: to make certain real dynamics recognizable.»
#4. In the cast we still find Marco D'Amore (Ciro di Marzio), Salvatore Esposito (Genny Savastano), Cristiana Dell'Anna (Patrizia), Cristina Donadio (Scianel), to which are added, among others, two young Neapolitan actors : Arturo Muselli, in the role of Enzo, head of a new faction who will seek to conquer the center of Naples and Loris De Luna, who plays Valerio, a Napoli boy fascinated by the dark side of power.
#5. Insistent rumors claim that in the third chapter of Gomorra could be revealed the identity of Liberato, the mysterious singer of "Tu t'e scurdat' 'e me".
How? The hypotheses are as follows: a scene during which he performs live or could actually be Livio Cori, rapper and now actor of Gomorra.