JE 'O TTENG E T'O DDÒNG' is the new song by Bawrut feat Liberato
The storytelling of the Neapolitan singer-songwriter meets clubbing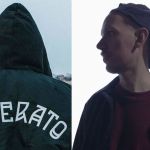 After E TE VENG 'A PIGLIÀ and Chiagne Again with Ghali and J Lord, Liberato returns with JE' O TTENG E T'O DDÒNG' in the company, this time, of Bawrut. As per tradition, this new piece also tells of a slice of life in an ode to being together and the importance of friends and every evening spent in company. "On this groundhog day that we have been carrying on for a year and a half we continue to have closed clubs and discos. This piece tells and pays homage to those memories of when you went out with friends, those who got lost on the dance floor and those who stayed to dance with you until the last. Then together with eating something and then at an after or at someone's house. The places are still closed but the memory is indelible and will be back soon" said Bawrut, born Borut Viola, Friulian DJ who emigrated to Madrid in the past opening of some Liberato lives.
The collaboration between the two stems from the desire to combine sounds and influences that are only apparently distant, bringing Liberato's storytelling to the club dimension that Bawrut knows well. "It is a feat that we both wanted to do, him to be even more in various musical environments and that of the clubs is one that he loves and feels about him. I for a speech that I am embracing and that will be seen in the future on trying to tell and export the sound and languages of the Mediterranean. LIBERATO is the right choice to start doing it since Naples is the best place to start talking about the fusion of cultures, music and people" said Bawrut.
JE 'O TTENG E T'O DDÒNG' arrived online on July 27th, in time to definitively consecrate our summer.