The next season of American Horror Story will be based on the recent US presidential
The creators of AHS have revealed some burning details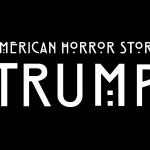 American Horror Story fans? Brace yourselves: the seventh season of the acclaimed anthology FX show will be focused on the US presidential elections of 2016. This was revealed by Ryan Murphy, the creator of AHS, but also of the award-winning American Crime Story, host of the talk show, "Watch What Happens Live with Andy Cohen":
"I don't have a title, but the season that we begin shooting in June is going to be about the election that we just went through - so I think that will be interesting for a lot of people".
And, when Cohen asked him if Trump will be a character in the season, Murphy replied with a sornionicon "maybe". Around every season of the horror series - which it's know will definitely be renewed until the number 8 - there is always much hype and speculation about the possible plots but until now no one had ever thought of Donald Trump and Hillary Clinton. Even when recently, during the Television Critics Association press tour, FX's president John Landgraf had anticipated that Ryan Murphy had "another truly innovative idea to do something fresh and different," knowone thought at a story set in the present. Now all fans are wondering how horror and supernatural components of AHS can be matched with the last US presidential election. We will have to wait, comforted knowing that Sarah Paulson and Evan Peters will be part of the cast. In the meanwhile we suggest you to watch "Feud", the latest project by Murphy based on the rivalry between Joan Crawford (Jessica Lange) and Bette Davis (Susan Sarandon) during the making of "What Ever Happened to Baby Jane?" that will be aired from 5 March.