"ALPHA CENTAURI" is the new Tauro Boys album
Available from June 28th
The Tauro Boys are back just in time to become the protagonists of the musical summer. The Roman trio has just released ALPHA CENTAURI, their first official project, anticipated by the singles Bella bro feat. Side and Ready for War feat. Knowpmw. The album, distributed by Universal and recorded Thaurus Studio in Milan, is composed of 12 tracks among which the productions of Close Listen, Kenzo, Peppe Amore, Zollo, Nko, Nick Name stand out.
As the title suggests, referring to the triple star system of the same name that appears as a single star, it's a multi-faceted work, but perfectly compact and homogeneous. Prince describes it:
The record is quite varied: there are tracks destined to be real "bangerz", tracks made for clubs, others more reflective and deep, with hybrid tones, slow or fast bases. The main difference from Tapes is the presence of featuring. The record also sounds terrifying and Alpha Centauri fully expresses our imagination, we are the 3 stars that form that galaxy.
You can listen to it on Spotify.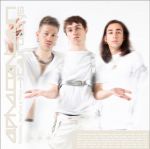 Here is the tracklist of Alpha Centauri:
1. Alpha Centauri – Prod. KenzoDiazepina
2. Bella bro feat.
Side Baby – Prod. Close Listen
3. Sto zitto – Prod.

Close Listen, Prince, Peppe Amore
4. Ieri/oggi – Prod.
Peppe Amore
5. Ready for War feat. Knowpmw – Prod. Close listen e Peppe Amore
6. Alla fine è andata bene – Prod. KenzoDiazepina
7. Mela Serpente – Prod. Close Listen, Nko
8.Blues Brothers – Prod. Close Listen, Zollo
9. Iban – Prod. Close Listen
10. Tag Team – Prod. Close Listen
11. Gemini – Prod. Prince
12. Argentina – Prod. Nick Name