G.Bit has just released his latest video 'Oh Baby'
The first track of the rapper's upcoming album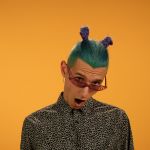 In the last few months, thanks to a fresh sound and unexpected rhymes, G.Bit has become one of the most original artists of the Italian scene.
In June 2018, Gianmarco Bitti, this is his real name, published his first album, AHAHAH, which was streamed more than 7 million times, sparking interest both in the industry and among the audience. The Italian rapper stands out for a unique and very personal style, which is accompanied by a colourful and imaginative aesthetic.
In anticipation of his first official album, which will be published for Warner Bros, today G.Bit has published the video of the first single of his upcoming work, Oh Baby. Directed by Leonardo Russo with the artistic direction of Lussorio Piras and animated images by Laurina Paperina, the visual marks a new chapter in G.Bit's career, which sees the blending of classic trap elements with Punk Uk accents.
Take a look at the video here:
Next weekend G.Bit will be one of the headliners of the Nameless Festival, next June 7-9 in Barzio, where he will perform as usually with his DJ and producer Youssef Giga.
Oh Baby is available on Spotify, iTunes and all streaming services.