How did Young Signorino become so successful?
It has nothing to do with Big Fish and his musical talent..
Young Signorino is definitely the most debated rapper right now.
Self-proclaimed "son of Satan", he came to earth to convert people to his music. And, until now, everything is going as planned.
Nevertheless, Young Signorino, (real name Paolo Caputo, born in Cesena in 1999), didn't come out of nowhere. His journey started one and a half year ago, when he uploaded his first YouTube video, Soldi e Mocassini (Money and Loafers), a true presentation of his "philosophy". Since that, the young rapper has evolved, always underlining his mysterious features. While at the beginning he was just an odd character (but still very innovative for the Italian scene), Young Signorino has now become a real personality, in front of the cameras and on his Instagram.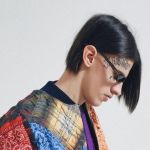 In less than two years, the Cesena boy went from being a Mr Nobody, to the
symbol of the new rap scene
, the Italian trap scene, a rising star capable of using every means to get where he's now.
2017: just a few people know Signorino, and nobody is expecting a big boom. June 2018: Signorino managed to emerge, becoming a real interest for enthusiasts and curious. Two of the most important Italian producers, Low Kidd and Big Fish, noticed him immediately and decided to work on two of his latest singles and videocplis. The visuals, where Signorino appears self-confident and professional, are covered in every single detail, exactly like the rapper himself, focused on the building of his character and the evolution of his music, which improved a lot after the collaboration with the two producers. Young Signorino is now the next big thing of Italian rap.
In just a short time he had a big break, generating positive and negative comments, but, above all, generating a reaction, which means celebrity, which translates in success. Two years ago the 20-year-old singer wanted only money and loafers. Now, after a rehab and a son, he's ready to have something more.
But let's throw it back a bit now. Looking into Signorino's YouTube channel we found 35 tracks. Starting with Soldi e Mocassini, it's easy to notice his artistic development. His 2016 songs aren't something new for the Italian audience, since that's also the year of Dark Polo Gang debut. Going back to Signorino, his mixing wasn't excellent, as well as his voice.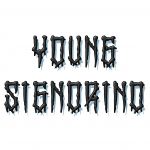 The titles of the tracks are clear: Erba Nelle Air Max (Weed in the Air Max), Borotalco (Talc), Mars Attack, and among others, Fiji, My Luxury, BU BU BU BU and Fluttuo (floating). The artworks for these songs, more than the music, are referred to the vaporwave culture, one of the first inspirations for the then unknown rapper. Facebook fan pages increased and also the charm about it, well documented on Instagram posts. Greek capitals, Fiji water bottles, snowy mountains as in the Evian logo and a ridicolous amount of pink started invading all the social platforms. The vintage trend was everywhere and Young Signorino cuoldn't help but join it.
As the young rapper was publishing his first tunes online, his name started becoming more popular. His polished style and straightforward lyrics made him an interesting news, which guaranteed him the first fans, who appreciated the vaporwave element of his music too.
Instagram followers grow very fast, but Signorino's fame isn't big enough to shoot a real video. Until February 21st, 2018. Game over.
Dolce Droga (Sweet Drug) comes out with the first important producer: Low Kidd. The instrumental created by the 333 Mob producer is amazing and fits perfectly the transgressive style of the rapper. Signorino in the clip acts crazy, as a real "son of Satan", a misfit, a visionary. In a very short period of time, Young Signorino becomes an icon, without even realizing it.
The song, of course, is a big success, with 4 mln views on YouTube. The big break has yet to come.
Two months later Mmh Ha Ha Ha emerges on YouTube. The success is instant and the song generates a huge reaction. The surreal mood of the track makes Young Signorino what he's now: the most debated Italian rapper. The audience is divided between who likes him and understands his genius, sure to be in front of the next big thing, and who hates him, can't stand him and thinks he's the main killer of Italian music. The success obtained makes him the rising star to watch, a promise of the Italian rap. The drugs and his past make Paolo an Italian version of the late Lil Peep. Signorino is a big slap to the morals, what was missing in Sfera Ebbasta and Dark Polo Gang.
Last but not least, La Danza dell'Ambulanza (The ambulance dance), produced by Big Fish, who revealed it was very stimulating to work with the young rapper. The whole of Italy is talking about him and the biggest producers of the national hip-hop scene are finally noticing Young Signorino.
But is it just music that makes Young Signorino what he is today? Absolutely not.
If the name wasn't already enough (very hip-hop redundant), as well as the tattoos on his face, take a look at Signorino's style. Videos like Dolce Droga and Mmh Ha Ha Ha are basically a showcase for him and his stylist, Valeria Semushina, who creates for him outfits that can't go unnoticed. Someone said that Signorino is one of the best dressed Italian rappers, and it's hard to argue with that. Every look is studied to provoke and impress the audience, who assists with real fashion lectures. Runway pieces combined with his personality makes Signorino an unstable fashion victim: he goes from the latest trend, sandals with socks, to skirts - a clear reference to the style ideal of Riccardo Tisci for Givenchy -.
What does my generation, born between 1999 and 2003, of Young Signorino? Clearly, as it happens with big names, there's who likes him and who doesn't. Once again his ability to divide and provoke is very strong.
Now we have to wait for his next move. He has a strong personality and a bright future awaits him. Will we be hearing of him for a long time?