The new book by Big Fish
'Il Direttore del Circo' is now out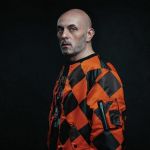 On May 26th, the new book by Massimiliano Dagani came out for Sperling & Kupfer. Born in 1972, better known as Big Fish, Il Direttore del Circo is his latest work. One of the best-known, prolific and appreciated producers of the Italian rap scene, Big Fish wrote a book dedicated especially to musicians and emerging artists, sharing his knowledge and advice, and providing basic guidance to build a solid and lasting career.
Big Fish reveals tricks and secrets of the music business: from the opportunities that talent shows offer to the tips on how to choose the right music producer and manager (as they will be your reference point and loyal partners when a career starts). In the book, he recounts how he paid his dues, and continues with the description of the various kinds of record contracts of the industry, as well as reporting on the role and the importance of social media.
Il Direttore del Circo is for those who in life want to make music and maybe be able to turn their passion into a real job, having above all a project in their head, dreams in their heart and feet on the ground.
Big Fish's book is available here.