Life in Milan is getting worse and worse
Between high energy prices, inflation and ever more glaring disparities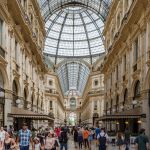 According to the reports of the 33rd Quality of Life Survey, conducted by Il Sole 24 Ore on the basis of 90 indicators, a scenario of the Italian population marked by the war in Ukraine and the related crisis is emerging: families remain crushed under the weight of inflation, which has never been so high since the early 1980s, and high energy prices are hitting businesses and local governments, which are struggling to manage their budgets. Bologna tops the list, followed by Bolzano and Florence.
The
survey
shows a map where Bologna, which has always topped the ranking since 1990, is the Italian province where people live best. It is followed by Bolzano, which climbs to second place this year, and Florence, which has risen eight places since 2021.
Parma
is also in the top 10 in ninth place and
Reggio Emilia
is in 13th place by a small margin. Three other
Tuscan
provinces are also at the top: Siena is behind Florence in fourth place, while Pisa is in 10th place. Trentino-Alto Adige's lead is also consolidated, with Bolzano in 2nd place and the province of Trento in 5th. The situation is different in
Lombardy
and in some large cities: While Cremona (11th), Bergamo (14th), Sondrio (15th) and Lodi (49th) gain places,
Milan
slips to eighth place, weighed down by the indicators of wealth and consumption and the high cost of rents.
Rome
even loses 18 places to 31st, having set a negative record in the litigiousness index due to the number of civil cases registered in the courts in the first half of this year. It is followed by
Turin
in 40th place, disadvantaged by poor air quality and a high number of reported crimes, Palermo in 88th place and
Naples
in 98th place, which has dropped eight places and has a record number of street robberies. The figures also show how urgently some regions in the
south
need to invest in digitalisation, renewable energy, health and education. Places 81 to 107 are all taken by southern provinces, including some major cities such as Palermo, Catania (91st), Naples, Taranto (101st) and Reggio Calabria (102nd).