Pitti presents Pitti Dance Off
"Tell me how you dance and I'll tell you dress"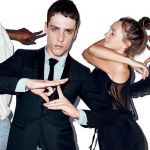 Pitti Uomo has always been the right place to show off the most insane and creative street style outfits and to grab some ideas for the upcoming men's fashion trend. In addition to the classical emphasis on aesthetics, the theme for Pitti Immagine's event that will take place on January 10 to 13, 2017 will be Pitti Dance Off "tell me how you dance and I'll tell you how to dress." A way to encourage participants to explore and capture a new format that includes three different artistic forms of self expression: rhythm, movement and style.
Pitti Dance Off is also the main focus for the new digital project of Pitti Uomo 91, under the direction and photography of Dennison Bertram and Gloria Maria Cappelletti's creative consultancy. A true slogan that highlights the importance of the chorus, transversal and gentrification. But above all a project that will include guests such as Paul Smith and Tim Coppens, as well as special projects like Cottweiler x Reebok and Brand Golden Goose Deluxe. This will also be an edition of #PittiSigns: a hashtag to identify and share the trend for next winter on social media.
"Pitti Dance Off – says Agostino Poletto, deputy general manager of Pitti Immagine – is an invitation to express yourself, through your own body and your own style. That's to say that next January we'll dance (and dress) just the way we are, the way we want, the way we know."