What happens when Kim & Kanye team up with Juergen Teller
A castle in the French countryside, a photographer with an unmistakeable style and a couple who never go unnoticed. These are the ingredients of the shoot realized for System Magazine which has as protagonists Kim Kardashian and Kanye West, photographed by Juergen Teller (who also appears in the pictures).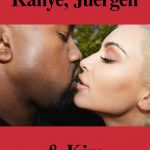 Don't expect anything romantic: the pictures are taken among rocks, dirt and abandoned fields and the styling is curated by Kanye (yes, now he's also into styling). The trio is pretty absurd and also the pictures are questionable: with her flesh coloured bodysuit Kim appears like a pig lying on the hay and the presence of Teller in his explorer version doesn't help to make the ensemble believable. But now we understood we can really expect anything from this showy couple.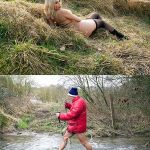 If you want to keep this images always with you, you can buy the magazine at Dover Books in London and New York or on Stystem website.