Tommy Hilfiger's new campaign with SZA and Quincy Jones
To celebrate the brand's 50th anniversary
Tommy Hilfiger celebrated Hip Hop with its Fall 2023 campaign, which pays tribute to the 50th anniversary of this cultural movement. The campaign features two giants of the music industry: legendary producer Quincy Jones and GRAMMY® Award winner SZA. The combination of fashion and music in this campaign is a tribute to the roots of hip-hop and the brand's timeless icons. This collaboration evokes the iconic moments of the 1990s, known as the golden age of hip-hop. But this time, the story is told through the perspective of the brand, which has always embraced and still embraces the icons of this cultural movement. «I have always been obsessed with music and am grateful that sharing passions with my idols has paved the way for collaborations with cultural pioneers», said Tommy Hilfiger. «Quincy Jones is a legendary figure whom I have the honour to call a friend: his creative genius and instincts have inspired me since the 1990s. SZA is a generational talent who represents the voice of today. Her authenticity, unique artistry and powerful essence set her apart from all others».
Quincy Jones, the 28-time GRAMMY® Award-winning music icon, and his family have a deep relationship with Tommy Hilfiger that has roots in the early 1990s. Quincy's daughter Kidada worked closely with Tommy on the launch of TOMMY JEANS, creatively contributing to the brand's innovation and cultural relevance. A highlight was in 1997 when Kidada styled Aaliyah, dressing her in the iconic TOMMY HILFIGER headband for the 'In the Jeans' campaign. Over the years, other members of the Jones family have worked closely with the brand, demonstrating their creativity at the intersection of music and style. For the Fall 2023 campaign, Renell Medrano immortalised Quincy together with 21 members of his family, including his seven children, creating an extraordinary mix of fashion and music. «I believe in the power of music to mould and guide us, and that creativity is a vital part of who we are as human beings», said Quincy Jones on the occasion. SZA, Oscar® nominee and GRAMMY® Award winner, represents the future of contemporary music and wears in the autumn campaign a look created by Carlos Nazario that recalls the iconic Aaliyah headband made famous by Kidada Jones in the 1990s. Photographed in a typical American home with family and friends, SZA is pictured with her entire family.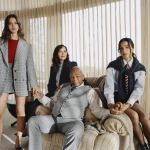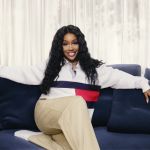 Tommy Hilfiger has always been a brand inspired by music and pop culture. In the 1990s, it played a key role in hip-hop, dressing young artists and collaborating with stars such as Grand Puba, Snoop Dogg and Aaliyah. In this special year celebrating hip-hop's 50th anniversary, Tommy Hilfiger continues to unite fashion and music, bringing fashion icons close to new fans through contemporary styling that embodies the concept of "Classic American Cool."