Louis Vuitton has a canvas beach bag on sale for €3500
But it wasn't designed by Pharrell
In recent months, the Louis Vuitton's name has hit the headlines several times already, but this time around Pharrellhas nothing to do with it. With the arrival of August, customers' desire to find a beach bag that is suitable for the hot weather, capacious, comfortable, but also stylish, greatly increases. For all the fans of one of the most famous French leather goods houses in the world, Louis Vuitton has designed two canvas bags illustrated with the image of the iconic Trunk and that of the Sac Plat. Called the Freezer Bag, these bags are not made in plastic, as they might seem, fooling us just like the suitcases and tote photos printed on their sides. Made of silver coated canvas and leather details, the two new accessories carry the name of a cooler bag, but the price and fine workmanship of a Louis Vuitton item: up to 3500 euros - more than the real Sac Plat and Trunk.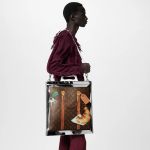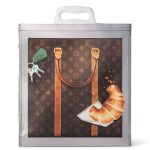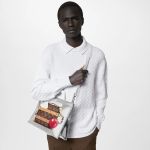 Louis Vuitton is not the first brand that has played with tromp l'oeil in recent collections, combining items of the world of streetwear with the high-quality craftsmanship and tailoring of haute couture houses. Pierpaolo Piccioli of Valentino, for last month's Haute Couture show, brought jeans made of silk gazar and beads to the catwalk, while Daniel Roseberry for Schiaparelli created fake feline heads made of resin and fabric for the FW23 Haute Couture show. Add to this the illusionist magic of Matthieu Blazy, who in each of Bottega Veneta's latest collections has added surprising details, revealed to the public only by touch. Looks entirely made of leather, from shirts to ties, have managed to fool the eye so much that they look like cotton, linen, or denim. And bags that do not to look like bags seem to always be a success on the runway, see Thom Browne and Balenciaga.
Could these two new Louis Vuitton bags be a hint to the independent designers who imitated the giant Hermès, producing tote bags bearing the image of the world-famous Birkin? While mimicking the mimicked is a totally pop concept, and although such designs may well be part of Pharrell's new portfolio, the musician-creative director has nothing to do with these bags. Albeit, as some suggest, the inspiration might come from Virgil Abloh's Louis Vuitton, one of the references most cited by Williams in his first show.