Shein cleared up the mystery about its Paris fashion show
It is still unclear, but in case it is true hold on to your hats.
UPDATE 5/29/2023: Following the furore caused by the news that an ultra-hip fashion brand could be hosting a catwalk show in the haute couture capital of the world, Shein himself sought to rectify this with a statement from the company's European director, Cui He. «We are very proud of SHEIN X, our design incubator empowering nearly 3,000 emerging fashion talent in launching their own fashion collections with SHEIN. The SHEIN X challenge 2023 has helped us discover raw talent from Europe with the support of the Graduate Fashion Foundation. We are thrilled with the amazing diverse expertise of the judging panel and grateful for their passion to mentor the talent of tomorrow! on the 8th June, in Paris, our SHEIN X runway show will feature the 25 talented designers who have been selected through the esteemed SHEIN X program, presenting a total of 78 stunning looks under the captivating theme of "Endless Summer» According to He's explanation, therefore, a fashion show will indeed take place - it will not, however, be about Shein's commercially available collections but about collections designed by designers who are part of the Shein X talent incubator.
Nobody's favorite manufacturer of cheap polyester dresses, Shein, might have decided it wants a place at the same table as other brands and could be about to hold a fashion show in Paris, based on a flyer that is circulating around social media in these hours. Next June 8 at 4 p.m., at an unspecified location, the brand will present its summer collection followed by a showroom visit and an after-party. We frankly don't dare to guess what could actually appear on the runway, not least because Shein, rather than conventional collections, produces tons of new designs a day. Enthusiasm for the event is literally intangible although we admit to feeling a morbid curiosity about what clothes might be presented by a company that seems to ignore the concept of seasonality in its collections. This would be the Chinese brand's second show after one held in October 2019 that virtually no one has any memory of.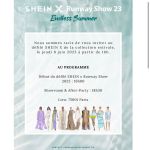 The unconfirmed news comes in the same days that the petition started in France to permanently ban Shein from the country has surpassed one hundred thousand signatures. The basis of the request is what we know: the «bas de gamme» clothes composed of materials of dubious safety, its production methods and the disposable nature of said clothes, the exploitation of workers and damage to the environment as well as its hyper-aggressive marketing tactics that border on unfair competition. It is clear, however, that if Shein is all this success it is because someone is buying it, mostly teenagers, seduced by the bargain prices that, rather than a positive sign, are a giant red flag-the most ignored in the fashion world.