Who's actually buying men's skirts?
nss magazine's editorial team weighs in on the trend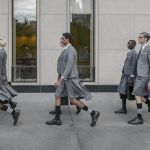 Modern metropolitan streets are a picture of what can be seen on the catwalk, but not always. In recent times, city men have embraced the use of handbags and accessories with the same level of style-consciousness as women - according to a recent survey, an increasing number of men are buying women's handbags instead of menswear lines' postbags and purses. But while it is taken for granted that everything seen on the catwalk this fashion month will be translated into street style in Milan, Paris, New York and London next autumn, editors and buyers are wondering just how much men's skirts - which have taken hold in almost every collection this year, from Gucci to Dolce & Gabbana, Dior Men and Alexander McQueen - will actually sell in stores.
According to an analysis run by Tagwalk, almost 65% of the brands at this past fashion week presented at least one menswear look complete with a skirt, a significant difference from the previous year (51%). The brands with the highest number of skirts were Ximon Lee, Songzio, Family First, Givenchy and Charles Jeffrey Loverboy, but despite the fact that a marked presence of skirts has created a real trend on the rise, according to some buyers interviewed by WWD, consumers feel restrained or even uninterested in the clothing item. As of now, it is unclear whether the men's skirt will ever become a must-have item in men's wardrobes, if it will flank jeans and tailored trousers in the same way as it does in womenswear collections; at the moment, the luxury fashion industry is mainly looking to Asian countries to understand the direction in which the market and purchasing demand is going, so it must be noted that while European and American men prefer a more conservative look, in countries like China and Japan, especially in avant-garde cities like Shanghai - where among other things young people are earning more money compared to Western generations - skirts are selling.
okay i don't really care about the met gala but i will say i appreciate how instead of going for that "ill-fitting 'breaking gender norms'" look oscar isaac finds skirts that genuinely match his more masculine style pic.twitter.com/7o67Wq4PWJ

— poe | MANDO SPOILERS (@dinnpoe) May 3, 2022
To specifically analyse the point of view of fashion enthusiasts working in the industry, we put theories on the future of the men's skirt in Italy to the test by asking the Milan-based editorial staff of nss magazine for their opinion. According to the survey, none of the men interviewed has ever bought a skirt, but more than 60% of them would say they are interested in wearing one in the future (61.5%). While some find it difficult to abandon traditional silhouettes in favour of the modern, because it is «out of character,» there are those who find it an interesting garment, «swag Irish style,» useful for stepping out of one's comfort zone and «giving complexity and originality to the outfit.» As we've mentioned before when discussing the red carpet skirts of actors like Brad Pitt and Robert Pattinson, the garment has existed in men's wardrobes for years, and many in the past have managed to retain their sex symbol status despite being photographed in what for average straight men appears "demeaning." According to the men of nss magazine, perhaps it really is a matter of time before men start embracing gender fluid fashion or, perhaps, it is just a matter of niche.