Coperni's new it bag is a meteorite
A limited edition made from a meteorite that fell to earth 55,000 years ago
After Coperni's much-discussed robot dog show at Paris Fashion Week, the garments presented during the défilé are now quickly hitting the market. First up is a piece that no one would have expected to be produced, a new it bag that may not be so new at all because it takes on the house's classic Swipe model and because the material it is made from is literally from the Stone Age. It is the Mini Meteorite Swipe Bag, described by the two creative directors as "a lunar fossil that fell to earth 55,000 years ago, found in France in 1968 and carved in 2023". An accessory that is impractical in itself, but for those who can afford it, a unique collector's item that combines archaeology and design.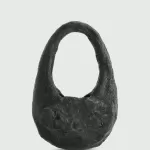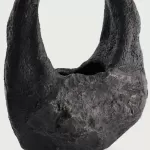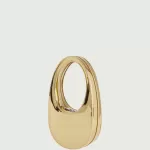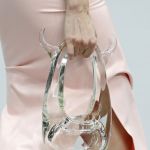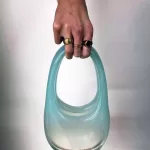 The Mini Meteorite Swipe by Coperni is a dark grey stone mini bag and part of a limited edition made from a meteorite that fell to earth 55,000 years ago (and has been certified 100% authentic by Theatrum Mundi). Each bag is handmade, so the shape may vary slightly from piece to piece: The meteorite pieces are taken for each order, so they may come from different places. The stone is then worked by the artisans at the Italian factory Semar. The price starts at 40,000 euros, although the figure can vary depending on the quantity of meteorite in each bag, the waiting time is six weeks and the purchase is non-refundable. For the FW22 show, Meyer had already designed an alternative swipe bag, made entirely of glass and soon to be worn by Doja Cat, Tinashe, and, in a version with devil horns in collaboration with emerging brand Heven during the promotion of the new series The Kardashians TV, by Kylie Jenner. For SS23, in addition to the spray dress, which was not released, the designers created a version of the Swipe in gold, which was available to order for 100,000 euros.
It's not the first time Arnaud Vaillant and Sébastien Meyer have resorted to a unique trick to fuel the hype around Coperni. According to Vogue Business, the same spray-on dress that Bella Hadid wore last season is part of a very specific marketing strategy that Rachel Tashjian disparagingly called a 'gimmick' on Harper Baazar, but which has helped the brand achieve endemic success among members of Gen Z and on TikTok less than a decade after its inception in 2013, as well as doubling its profits in 2021. Alongside wearable collections and minimalist garments, it's a few quirky, Instagram-worthy pieces that catch the public's attention in an endless loop of social media interactions.