In Chanel's defense
And of its old-fashioned style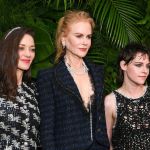 Chanel's true potential lies in its infinite styling possibilities. For years now, the brand has lost credibility online, being mentioned by fashion gurus and critics on TikTok only to be judged disparagingly. «Fire your stylist,» «free her,» «she looks like she's in pain,» are just some of the comments some people have left online under photos of Chanel ambassador Margot Robbie's red carpet looks. Even on the evening before the Oscars, at the dinner organized by the brand at the Beverly Hills Hotel, there seemed to have been a lack of that touch of contemporary glamour one expects from such an event; Marion Cotillard was trapped in a sequined shirt with puffed sleeves, Kristen Stewart in a quite bland pair of black crocheted shorts and top. But behind the brand's anti-Instagram demodé lies a certain type of charm, paradoxically thanks to the extremely strict traditionalism that characterizes Chanel's heritage. Recently discovered by influencers and pop stars with an eccentric and unconventional style, the old-fashioned soul of the fashion house is being transformed into a new language, silently fighting today's beauty standards.
Maybe it's the overlapping textures or perhaps the modestly shaped silhouettes; Virginie Viard's collections too often remind us of first communion outfits, our grandmother's old lace centerpieces, the unlikely accessories that have occupied antique shop shelves for years, ordinarily snubbed by young girls as they are intent on searching for the latest Y2K goodie. Chanel's tweed is too similar to that of her aunt's 1950s outfit - yes, the one that always forgets to clean the coral-colored lipstick staining her teeth - to look Instagrammable, as are the white camellias, pretty enough to fit into the neo-romantic TikTok aesthetic of "coquettes," but not enough to surpass the charm of classic red roses. Even Viard's sartorial cut, though experimental - as many as 66 different looks were included in the FW23 show - struggles to fit in with Gen Z. But perhaps that is exactly the intention of the creative director: while most luxury brands try to get into the good graces of the Gen Z audience by debuting on spaces like TikTok, Chanel maintains its austere inaccessibility by keeping an elitist tone reserved for its true clientele, namely those who can afford Chanel products - which, which, by the way, are steadily increasing - while also retaining a not insignificant record in terms of growth in turnover, with revenues in 2021 exceeding those of the previous year by 50% (over €14 billion) and still rising (2022 closed with +35%).
While Miuccia Prada delights the new generations with Miu Miu, last year with a mini-mini-skirt, this one with sheer polka dots and multicolored tights, and while the more daring are impatiently awaiting to uncover their bodies with H&M x Mugler, Chanel dedicates its looks to those who do not identify with hyper-femininity and minimalism - today the main protagonists of mainstream fashion - but rather with those who try to challenge these very concepts. Indeed, bringing out the true value of Chanel requires the right styling and an underground sensuality that only an outcast can emulate. The likes of FKA Twigs and Lara Violetta, undisputed queens of a fashion that challenges beauty standards, know this well. The cyberpunk look of Lara Violetta and the creative, maximalist look of FKA Twigs innovate Chanel's identity by adding their own personality to it; with the right combinations, the aunt with nail polish on her teeth turns into a futuristic girl, a dark-spirited diva who knows how to play with pink and glitz in just the right measures. Maybe all Chanel needs right now is the right stylist or maybe, it needs to stay unnoticed, just the way it is.