Valentino inaugurates the second edition of Valentino Vintage
Maison adds to its international vintage stores those in London, Paris and Seoul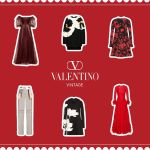 Launched in 2022, the Valentino Vintage project has just inaugurated the opening of new second-hand stores on a global scale, adding London, Paris, and Seoul to the already popular physical stores in Milan, Tokyo, New York, and Los Angeles. Aimed at celebrating the creative individuality and transformative potential of a vintage garment, the project supports circular fashion, demonstrating the brand's commitment to establishing itself in the field of sustainability. Following the online launch in February, starting in April Valentino will initiate a series of exclusive takeovers in its seven international boutiques, inviting the Maison community to participate in a vintage revolution.
creative partnership with 1 Granary
, a collaboration that will explore archival fashion by donating clothes from the brand's heritage to
seven design schools
in each of the cities chosen by the brand for Valentino Vintage. The partnership will build
a new dynamic hub of future-oriented talent
, who will be able to take advantage of all of Maison's know-how to develop their creativity to the fullest. With these initiatives, Valentino aims to engage its community in a new circular venture, rediscovering the timeless beauty of its past garments by giving them a new life.
It will be possible to find Valentino Vintage at Madame Pauline (Milan), Plaisir Palace (Paris), Rellik (London), New York Vintage Inc (New York), Recess (Los Angeles), The Vintage Dress (Tokyo) and Janemarch Maison (Seoul).