Is there a collaboration between Gucci and Birkenstock on the way?
Photos from the set of "...And Just Like That" tickled the public's curiosity
The Birkenstock Boston Clog was the shoe of 2022, and if you thought you had seen enough of them last year prepare to see just as many, if not more, in 2023. Indeed, last year, with the German brand's collaboration with Dior, Birkenstock's attempt to converse with the world of high fashion, from Rick Owens to Jil Sander, had reached its zenith, with the production of sandals and clogs that, if not far removed from the original silhouettes, elevated the brand and its desirability and prestige. Now, from the set of ...And Just Like That, Sarah Jessica Parker appears to have launched the teaser of a new Birkenstock collaboration, this time with Gucci. In the past few days in fact, Parker was seen in New York on the set of the Sex and the City sequel wearing a clog that looked just like Birkenstock's Boston but covered in Gucci's GG pattern.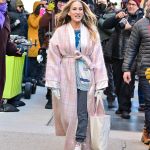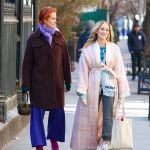 The fact that the clog itself exists does not absolutely prove that a collaboration exists - almost every luxury brand has in fact created its own version of the Boston Clog even tracing it closely from the original model except for an interior lined with what appears to be blue fur that is noticeable in some of the behind-the-scenes photos. Ergo, the clog could be part of the interregnum collection we saw in Milan last month where, indeed, there was a return of Gucci's classic accessories covered in the simple GG monogram. It is also true, however, that that clog on the runway was not there and that therefore making it appear for the very first time on the set of the Sarah Jessica Parker series represents a "soft" and under-the-radar launch for one of those products that seems to promise stratospheric sales. Harder that, as some say, the pair of shoes doesn't even exist and was made only for filming. Probably, we will just have to wait until spring arrives to find out the truth.