Why K-Pop stars have supplanted fashion influencers
The true main protagonists of the last fashion month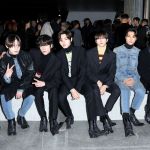 Having an oceanic, screaming crowd in front of one's fashion show does not materially make a brand money, but it guarantees a type of return that is as intangible as it is valuable. Clearly, every fashion brand would like its show to be treated by the audience like an Elvis concert in the 1960s. We are not in the 1960s, though, and Elvis (conspiracy theories aside) has been gone for some time now. Yet a perhaps even better alternative is the K-Pop stars who, during this month, have been more sought after, invited, and incensed than any influencer during past men's fashion weeks and more than the same Western pop stars who are regularly invited to shows. Last season the case study was given by Celine whose show found itself under siege thanks to the presence of Lisa from Blackpink and Kim Tae-Hyung (aka "V") from BTS. In Milan, also last season, the arrival of Chaeyoung of TWICE had gathered a crowd that was nothing short of exaggerated in front of the Ferragamo show while, again in Milan, in the fashion week that just ended it was the presence of the Enhypen in full force for the Prada show to send the Lotto and Lodi area into a tailspin. Theirs soon became a regular presence. Without wishing to list the many examples, which extend from Milan to Paris and even Haute Couture week, it is clear that K-Pop stars have definitely supplanted influencers: on BoF we read that «social media posts by or about them generating as much as 41 percent of the celebrity and influencer buzz for Milan's fall-winter 2021 womenswear season, according to Launchmetrics. That share may have grown to as high as 50 percent at the Milan men's fashion week that closed Monday, according to estimates by marketing consultancy Lefty». Also according to Launchmetrics, the mere presence of Jisoo of the Blackpink at Dior's paragon show created $7 million in media value - a figure that puts Kim Kardashian's collaboration with Dolce & Gabbana, which generated $4.6 million with a single gig last year, to shame.
The expansion of K-Pop's following and its megastars is not only the most evident side of Korea's own cultural expansion, which has seen its Oscar-winning films and TV series become global phenomena on Netflix but also a substantial increase in the country's importance in the dynamics of the luxury industry. While having a different importance than China's very large customer base, South Korean luxury consumers are becoming an increasingly sizeable force: a few weeks ago Morgan Stanley declared that those in South Korea are the largest luxury consumers in the world, stating that, as CNBC writes «estimated South Korean total spending on personal luxury goods grew 24% in 2022 to $16.8 billion, or about $325 per capita. That's far more than the $55 and $280 per capita spent by Chinese and American nationals, respectively». Also according to the bank, the stratospheric sales growth in the country is due to the intersection of two factors: the first is the increased spending power of Korean citizens, and the second is the tolerance with which individual financial success is celebrated in the country. Also, CNBC reports on a McKinsey survey that Korean consumers are on average less likely to view the display of luxury as vulgar than their Chinese and Japanese neighbors.
It remains clear, however, that the mass appeal of K-Pop stars only partially translates into sales, and indeed a Bain & Company analyst suggests breaking down total luxury spending by the number of middles- and upper-class people to get a more realistic measure of consumption and attitudes toward luxury. Nonetheless, this does not change the fact that Korean consumers spend on average six times more than Chinese consumers and thus represent a tasty market for luxury brands that, in fact, have made every conceivable K-Pop star their own ambassador. Add to this the fact that the policies of Korean record labels allow them to manage capillary and with an iron fist the public image of these stars who, to put it in somewhat brutal terms, less likely to end up on the front pages of tabloid tabloids (we're looking at you, Kanye) kept aseptically away from any scandal, and above all do not have the same qualms about explicitly promoting and wearing branded products. A partnership with them, in short, is the safest investment of all for a brand sic stantibus rebus. Classic influencers, by comparison, are blunt and hopelessly obsolete tools.