Let's welcome the season of minimalism
In the age of fashion as entertainment, some designers choose simplicity
In the age of normalizing runway shows in tropical paradises, of fashion pushing the boundaries of entertainment, and where more and more distractions come between audiences and collections, there is often a sense that clothing is the last thing we are asked to consider. From Tyra Banks's cabaret for Kid Super to Rosalia's cameo for Louis Vuitton, via Doja Cat's appearance in Schiaparelli, the era of fashion gimmicks-to use the expression coined by Rachel Tashjian to describe Bella Hadid's spray-on dress from Coperni-leaves so much room for marketing and so little room for garments. And it is precisely here that fashion divides into two factions, between designers who, in order to sell, compromise with spectacle and others, canonically maximalist or otherwise highly stylized, who, adhering to a new market desire, choose simplification. Gucci, Saint Laurent, J.W. Anderson, Loewe, Dolce & Gabbana, Junya Watanabe: these are just a few of the names that have focused on minimalism in recent fashion weeks.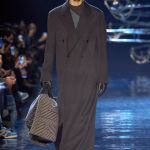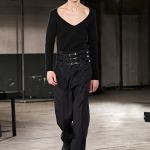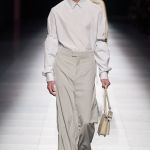 "I feel like less is more, but in a new way," Jonathan Anderson said of Loewe's FW23, where a bare universe with a series of models walking in a white space was "a reductionist act". His collection exaggerated the materiality of the garments until it became pure 3D sculpture: metal jackets beaten by artisans with copper and pewter, shirts made of stiff and crumpled parchment, hammered silk to match boxers, angel wings. Still avant-garde, but a far cry from the variety of shapes and colours the designer had accustomed us to in the past. Domenico Dolce and Stefano Gabbana also opted for unexpected simplicity and continued their work of exploring and reworking the archives. The show, titled Essenza, was based on black and white looks, a mathematically strict 90s tailoring that also knows how to be loose, but without all the frills, accessories and patterns we are used to from the duo. Ludovic De Saint Sernin, on the other hand, who was recently appointed creative director of Ann Demeulemeester, seemed to be rehearsing for his new role at the Belgian fashion house: his veritable Y2K imagery full of glitter, feathers and transparencies looked more restrained than usual with a riot of all-black looks.
At the same time, the classic brands remained and presented simple, product-based collections: Brunello Cucinelli, Hermès, Lemaire and even Gucci, marking a new ideological and stylistic direction for the brand's future after Michele's departure. A collection designed by the in-house team featured thoughtful and well-cut pieces, garments that anyone could imagine wearing, light years away from the baroque imagery of the now former creative director. Even at Prada, the garments were classic, clothes that evoked the idea of a modern, minimalist business youth, including models in suits with detachable collars and tote bags with built-in water bottles. Anthony Vaccarello, on the other hand, continued his work of simplification for Saint Laurent, moving away from the rock-chic aesthetic of Hedi Slimane in favour of the sublime imagery of Yves. FW23 followed suit, presenting a dark masterpiece of balance and measure, far from subcultural innuendo and in search of a formal perfection that, for all its universality, nevertheless remains endowed with a voice and a total and immediate identifiability. Faced with these collections, one can only ask: is the future of fashion minimalist?