The series documenting the relationship between Vivienne Westwood and punk
What it means to play the role of Britain's fashion queen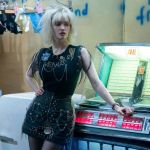 Punk and the rise of the Sex Pistols are just two of the main characters in Pistol, the series directed by Danny Boyle (former director of Trainspotting, The Beach, The Millionaire, and Steve Jobs), which depicts the emergence of the band from the point of view of their guitarist Steve Jones and is based on his book Lonely boy: Tales from a Sex Pistol. In addition to Jacob Slater as drummer Paul Cook, Anson Boon as John Lydon, Christian Lees as bassist Glen Matlock and Louis Partidge (Sid Vicious), the film also features actress Talulah Riley as Vivienne Westwood.
The well-known British designer who recently passed away was was
«absolutely instrumental in the birth of the band. She designed the logo and had an incredible impact on British culture»
, the actress said in
an interview
. To learn more about the designer, she met with her
«before we started filming and it was wonderful. I also met with her sons, Ben and Joe. I used a mixture of materials»,
she continued.
«Think of how Vivienne Westwood dominated fashion. Chrissie Hynde sold millions of records in pop culture history and Nancy Spungen was an incredible woman who made her mark»
, Talulah explained. The actress recalls being impressed by the designer's composure.
«I thought her energy would be reflected in a frenetic attitude, but she was actually quite determined»
, Riley said, contrasting her tendency to gesticulate with the designer's composure.
«I had never played a real person before,»
Riley told
WWD
.
«So there was all the responsibility that came with it. It's a little intimidating because it's about the life of an 'outsider'. And what we are doing is a work of art: it's not someone's life and the Vivienne I am portraying in the show is not the real Vivienne, but she will remain on the public record as a version of her»
, she continued. Riley's
casting
took a full 10 years - the first audition for Boyle took place 10 years ago in Los Angeles, albeit for a different project. Before she even entered the room, the director told her she was too young for the role she was meant to play. Playing Vivienne Westwood in the series allowed her to explore the close
connection
between fashion and punk and to understand their logic and mutual influences.