The 5 trends of 2022 that we have already got rid of
But Y2K continues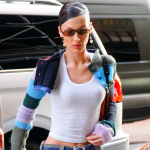 2022 has been an eventful year for fashion: between a Y2K craze that has been raging for years now and all the aesthetic trends that come with it, from #barbiecore to #balletcore, it's now clear that it's Gen Z's flamboyant yet nostalgic taste that is driving market trends. Inspiration comes from the past, spreading through TikTok and Netflix series, but while some of the big trends were there some time ago, others seem to have an ever-shorter life cycle. What were the meteorites this year? Are we all still crazy about pink and mirrored glasses? What can we expect from the return of low-waisted trousers? The data tells us, but not only. Fashion research platform Stylight analysed the buying behaviour of its 160 million annual customers across 16 international platforms (including Italy) and took a detailed look at the strongest trends of 2022, as well as those that will continue to grow in 2023. The result? It seems that some of our favourite pieces of the past months are already "out of fashion".
Low-waist jeans vs. long skirts
Denim is undoubtedly one of the biggest trends of 2022, but one garment in particular was viral last year: low-waist jeans. Low-rise jeans, which were all the rage in the late 90s and early 00s, are one of the hottest trends of 2022, making a controversial comeback that seems to have peaked in January 2022 and shows no signs of abating. In 2023, denim will be worn from head to toe and certainly does not stop at trousers. One of the big trends is the long denim skirt, which has already been seen on the catwalks of Burberry during the SS23 Fashion Week shows and on the feeds of trendsetters on Instagram and TikTok, and of course on Bella Hadid.
Bright pink vs. emerald green
If 2022 were a colour, it would surely be hot pink, the hue that has led Valentino to dominate the red carpets and catwalks under the expert direction of Pierpaolo Piccioli. No other colour has attracted so much attention, being worn head-to-toe by influencers and celebrities, and obviously ending up on the shelves of the most famous fast fashion brands in no time. However, as fashionable as this colour is, demand on Stylight seems to have peaked last September and since then interest has been slowly waning. In fact, emerald green is the colour of autumn/winter 2022: demand for green garments has increased by 1722% in recent months and does not seem to be slowing down, so emerald green, like cargo green, is expected to be one of the biggest colour trends of 2023.
Sporty sunglasses vs. shields
Either way, we can not deny that sporty sunglasses were the highlight of the summer, and not just for Gen Z. Perhaps due to conflicting opinions on the subject and a particularly popular silver declination made by Balenciaga, interest in the accessory skyrocketed in August 2022. But since then, sports sunglasses have evolved into 'mask' or 'shield' models, which were very popular in the early 2000s and a cult item for celebrities such as Paris Hilton, Nicole Richie and Lindsey Lohan. Almost 20 years later, we see it being worn by Bella Hadid despite the winter season, with a 63% increase in searches.
Platform heels vs. flat ballet flats
When it comes to 2022 shoe trends, one style in particular stands out: the iconic, vertiginous platform pumps from Valentino and Versace, which also feature an ankle strap. But while the trend is definitely (still) there, it seems that the search for this type of shoe has peaked in the summer of 2022, only to give way to a much less flashy but equally polarising model: the ballet flat. From Simone Rocha to MiuMiu, past it-girls like Gigi Hadid, Alexa Chung, Jeanne Damas and Katie Holmes: with a steady increase in clicks (+38% in the last 2 months) on Stylight, you can bet that ballet flats have a bright future ahead of it in 2023
Corsets vs. waistcoats
Thanks to Bridgerton and of course TikTok, corsets were definitely one of the big trends of the year. They played the lead role in reviving the regency core between Vivienne Westwood models and Dolce&Gabbana's baroque silhouettes. But it seems that next year they will opt for a very different model: the waistcoat, worn strictly skin-tight and participating in the casual chic so loved by TikTok. Demand for corset tops has already peaked in January 2022, while interest in the newcomer has increased by 165% in the last quarter.