Everyone's going crazy about Nike's Cable Knit Sweater
When your grandmother's aesthetic meets sportswear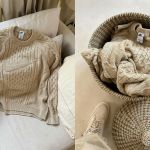 What happens when a hypebeast gets old? And what happens when he gets older and it's Christmas? He probably wears Nike's Cable Knit Sweater. Unveiled as part of Nike Sportswear's winter collection, this curious woven sweater with such a traditional (and even old-fashioned to some) vibe started making the rounds on the Web first quietly, then more and more persistently, until a photo of the most popular model, the cream/beige one, appeared on @hidden.ny's feed (reposted from the page of Kuwait-based collector Del Ten), witnessing its ultimate induction into this year's viral products Hall of Fame. But come to think of it, the sweater in question, made not of wool but of recycled polyester, had all the makings of going viral. What better way to capture the public's attention than to create a hybrid product that is as reminiscent of grandma's woven sweaters as it is of the sporty, dynamic feel of a Nike sweatshirt? The traditional construction, whose vibe we might even call "rustic," is perhaps the salvation of such a large logo that, until now, had only camped out on the heavily logoed sweatshirts usually associated with the perpetually sweatpants-wearing teenagers who populate suburbs across Europe.
The sweater, in fact, would seem to be one of those symbolic products of the streetwear generation's stylistic transition - accustomed to and still loving hoodies and sportswear but now too grown up to wear them without feeling like they are going back to their teenage years. It is no mystery that, in the field of fashion, both luxury and high street, knitwear has found increasing popularity in recent years. In 2021, the UK's Centre for the Promotion of Imports estimated that European knitwear imports increased by 5.1 percent each year while, this summer, Transparency Market Research calculated that by 2031 the knitwear industry could be worth $998.6 billion globally, also registering a sharp increase in the use of "knitted sportswear." If we wanted to point to two key moments in the leap in popularity enjoyed by knitwear, we could point to the famous cardigan by J.W. Anderson worn during the pandemic by Harry Styles whose patterns the designer shared to reproduce at home; and the immense popularity of mohair triggered last year by Marni's now famous striped sweaters. The only problem: until now, the world of knitwear had remained something elitist, becoming more democratic with the success of Scottish "shaggy" sweaters, but having difficulty opening up to a mass audience with truly viral and, therefore, cost-effective proposals. This is where Nike's Cable Knit Sweater comes in.
The product's success (when was the last time TikTok went crazy over a Nike product that wasn't a pair of sneakers?) is a testament to a gradual evolution of the public's tastes. In the Beaverton-based brand's own collection, for example, one also finds collared utility jackets inspired by classic workwear, quilted ponchos and Dry-Fit shirts filled with cargo pockets from Nike ACG but also a cardigan produced by Jordan Brand together with Eastside Golf that, together with the sweater mentioned at the beginning of the article, would seem to signal a subtle experimentation in the field of so-called "grown-up streetwear" of which Aimé Leon Dore is the most celebrated pioneer.