Virgil Abloh's legacy one year after his passing
The works of the Off-White™ founder live on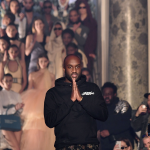 It is exactly one year since we received the news of the death of Virgil Abloh, who passed away after a two-year battle with cancer. He was undoubtedly one of the greatest pioneers of contemporary fashion, but he was also a connoisseur of music, a lover of design, and a creative spirit who could move with equal verve between the different fields that make up the arts. But behind all the glamour, the fashion shows between Paris and Milan, and the collections, Virgil was above all able to give people hope. He managed to represent marginalized communities, gave hope to those who did not necessarily feel welcome in the fashion industry, and made aspiring talents realize how far they could go if they believed in themselves, took talented individuals under his wing and helped them make their way in the industry. Luxury meets streetwear, history meets the future, and the 'tourist meets the purist'. Abloh has managed to build bridges between seemingly distant worlds: from his master's degree in architecture at the Illinois Institute of Technology to founding one of the biggest streetwear brands, Off-White™.
He was the first African American to head Louis Vuitton's menswear department. He used his role to design collections that were a medium for black culture and highlighted themes of social justice. Precoll's 2019 collection was inspired by Martin Luther King Jr's "I have a dream" speech, while the spring-summer 2021 "Message In A Bottle" collection paid homage to the colors of the Ghanaian flag and was designed by predominantly black staff. Ultimately, he brought the streetwear scene and black culture into the world of high fashion. A year after his death, how has his legacy been passed on? And what remains of his legacy?
Despite Virgil Abloh's achievements during his lifetime, his greatest legacy is probably intangible: the hope he instilled in young people. The influence of Abloh's do-it-yourself mentality and the fact that you never stop fighting for your goals has changed the mindset of a generation that now boldly seeks its independence: How many T-shirt brands were born thanks to Off-White? How many DJ careers have been launched thanks to Abloh's approach in the music industry? How many designers have fallen in love with the world of fine arts to which his models often referred? Faith, aspiration, and hope in people are undoubtedly his greatest achievement. Alongside this intangible legacy, his 'Post-Modern' scholarship fund, established in 2020, still strives to fulfill the mission Virgil Abloh pursued during his lifetime: 'Everything I do is for the 17-year-old version of myself,' he used to say. The fund promotes equality and inclusion in the fashion industry by providing scholarships, access to career support services, and mentoring to promising graduates of color, African-American or African descent. The young designers, merchandisers, and marketers of the inaugural Class of 2021 have already secured prestigious internships and jobs in the fashion industry thanks to the funding of the Post-Modern Scholarship, the opportunities provided, and, most importantly, the talent, skills, and employability of the scholarship recipients. A legacy whose impact the fashion industry has yet to experience
Since his death, many have sought to carry on Abloh's legacy. The most prominent is certainly Tremaine Emory, who was appointed creative director of Supreme in February. Like Abloh, he tried to incorporate his beliefs into his work and made the following statement to Highsnobiety upon taking office: «White supremacy and capitalism have only worked in America for 400 years. So they work every day. I need Nike and all the other billion-dollar companies working every day to change things for women, for black people, for Mexicans, for everybody. That's what I need». At the same time, Off-White™ appointed Ib Kamara, who has worked closely with Virgil Abloh for many years, as the brand's art and image director. In addition, there have been many rumors about who will take over Abloh's role at Louis Vuitton - Samuel Ross, Martine Rosé and Grace Wales Bonner are names that have attracted particular attention, personalities who seek to support black culture through their own labels and corresponding collaborations.
Although there has been a positive shift in the upper echelons of the fashion industry towards the increased use of black models and celebrities for campaigns and covers, there is often debate about whether this approach is actually helping to create diversity, as it is the faces on the outside that are under the illusion that the system is fair and just. In early 2021, the year of Virgil Abloh's death, the New York Times published a study detailing how diversity is portrayed behind the scenes. It surveyed 64 brands, 15 department stores, and online retailers, as well as women's magazines such as Vogue, Elle, and Harper's Bazaar. The survey revealed shocking results: of the 64 brands, only one was represented by a black manager, Virgil Abloh. At the same time, only 4 of the 69 designers or creative directors of these companies were black.
And these were names like Kanye West and Olivier Rousteing of Balmain. There is no doubt that Abloh's legacy has been passed on in the best way possible, but the data proves that in an industry that prides itself on having an eye for diversity, efforts are not enough. Especially when we now look back at a year without Abloh's presence. The reality is that it can take years, if not decades, for someone as influential and creative as Abloh to be established in the fashion industry, and even then, due to the sheer uniqueness of all parts of his being, his legacy will likely only be available for reference - never in comparison.