The identity complex of being a creative director in 2022
Does a perfect balance between the commercial and the artistic even exist ?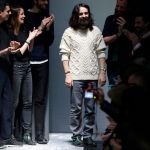 Yesterday, news hit the fashion world by shock, when it was officially announced that Alessandro Michele would be ending his time at Gucci after a seven year run that oversaw a full 360 transformation of the brand and turned it into the Kering Group's number one earner. In an article by WWD preceding the exit, they reported that the reasoning behind his departure was that «Michele was asked "to initiate a strong design shift" to light the fire under Gucci, but this request was apparently not met by the designer». Although Kering has of course not confirmed or denied this being the motive, the idea is not that far fetched and the mere possibility of this being true points to a frightening reality regarding the complexity of being a creative director in today's fashion climate.
Alessandro Michele became Gucci's creative director in 2015, and throughout the years, he managed to create an aesthetic out of what was deemed as strange or ugly. He changed the way in which people thought of fashion and beauty with a concept that not only applied to clothes, but extended to decor, crockery, scents and so much more. Whenever someone said something that «looks or feels Gucci» it was always clear exactly what that meant and that was thanks to him. From this, he gained a cult following from the misfits, the maximalists and everyone who felt seen by the concepts he created, which brought the brand from an annual revenue of 3.5 billion euros, to around 20 billion euros. Michele's departure is concerning because in the eyes of many he was the perfect balance between the artistic and the commercial, he made art, things that were intrinsically beautiful and meaningful , while at the same time he was hitting the numbers and selling. However, the idea of his departure being about Kering wanting the brand to grow financially at a pace that was faster than it was, raises the question about the role of a creative director today, is it to create art? Or is it simply to sell? Does fashion in 2022 have any room for the artistic , the experimental or the divine ?
The commercial fashion industry enjoys having proximity to the concept of art, mainly because art has an undeniable proximity to luxury, yet in the way the industry functions , on a constant hunt for the new and fresh makes it clear that it is not a healthy breeding ground for art to flourish. Designers want to be artists , but at this same time they have to be salespeople, and in many cases they have to be more of the latter. This identity complex is not just the case with Alessandro, but with many others as well. Last season Demna created a collection for Balenciaga built around the idea of denouncing capitalism , and as an art work, it was brilliant, but as a fashion collection that needed to sell, it didn't quite make sense to denounce the idea of capitalism when your jeans are priced no lower than 1,500 euros. The CEOs of these companies also make this job twice as difficult, in an article by BOF Angelo Flaccavento points out that the new guard of creative directors in Milan like those at Missoni , Etro, Bally and Ferragamo, «lack the guts to disrupt», which was partially in blame of the CEOs who have specific visions of reaching younger consumers and creating hit items. However, to some extent one can understand this level of caution with a designer who is just starting their journey with a fashion house, but it seems to be the case of the industry having higher and more demanding standards for its creatives in general.
Where were you when you saw Alessandro Michele's first Gucci collection? (I was in the GQ Style office slash fashion cupboard and we all stopped what we were doing to live stream it and were subsequently shook) pic.twitter.com/xcZIBMZZlB

— Hannah Tindle (@hannahtindle) November 23, 2022
The fact is that the industry has gone through a shift from an era of John Galliano creating for 15 years at Dior, or Karl Lagerfeld spending a lifetime at Fendi, to the average tenure of a creative director being 1-3 years. Whereas the role of a creative director was once a partnership or marriage with a brand and it's CEO, through thick and thin, lately, most of these marriages are ending in divorce, on the account that creatives have become dispensable for these commercial giants. Although as an industry we may pride ourselves on having morals that are opposite of fast fashion, it may be useful for us to take a second look at ourselves, as while the way in which we produce might be arguably more ethical, the rate at which we churn out creatives is becoming horribly resemblant to the rate at which Shein produces clothes.