When the stage names of sex workers meet luxury brands
Maison Dior's lawsuit against a well-known face of Only Fans
What is the connection between the luxury fashion house and the porn industry? And above all, what would drive the distinguished and busy lawyers of the house of Dior to file a lawsuit against a well-known face of Only Fans? The answer is much simpler and more intuitive than you might imagine: a stage name. This is the case of Gigi Dior, the self-proclaimed 'super milf' of OF, the latest in a long line of sex workers who have drawn inspiration from Haute Couture to present themselves to the public: Frank Versace, Sofia Prada, Drew Valentino, and Chanel Preston, as well as, in the music world, Gucci Mane or Aaron Cartier. This can be added to domestic examples such as the porn actor Christian Dior and the rapper Bello Figo - originally known as Bello Figo Gucci, before the eponymous brand pushed him to shorten it by a lawsuit. A decade-long tradition that leads artists and sex workers to take on 'luxury' nicknames, both in an ironic and irreverent sense and also in order - as Daniel Rodgers points out on Dazed - to escape exclusion through the sublimation of prestige usually reserved for the bourgeoisie.
The Maison founded by Christian Dior did not need the 75 years of history to develop a healthy dose of irony, so much so that the brand's lawyers urged Gigi Dior to drop the stage name with immediate effect. «This is ridiculous, my name has nothing to do with haute couture and the funny part is what I usually do is not wear clothes at all» Gigi replied. The actress and model officially registered her name in September, but now has until 17 November to submit a written response to the brand's lawyers, who claim that her pseudonym is damaging Christian Dior's reputation: a "dilution by blurring and dilution by tarnishing" the statement says. Yet, before Maria Grazia Chiuri took the reins, making it the symbol of an ethereal, unattainable, and frankly boring femininity, the brand was more sexually inspired, when John Galliano dressed as artistic director and the sensualities of the 2000s made us far less prude. Fashion itself is prone to pornography: Think of the explicit sexiness of Tom Ford's campaigns for Gucci, the years when burlesque star Dita Von Teese was Jean Paul Gaultier's muse, Pornhub's recent collaborations with Shayne Oliver and Ludovic de Saint Sernin, or Chloe Cherry's front row appearances, while at the Namilia show by Nan Li and Emilia Pfohl in 2020, the three Pornhub actresses, Asa Akira, Marica Hase, and Jade Kush, paraded in a feminist manifesto.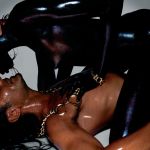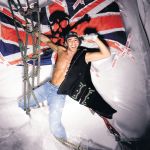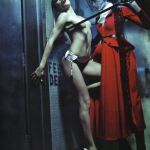 Certainly, the discourse of trademarks is a complex and fundamental matter for the construction of a brand's identity, so much to line the pockets of lawyers, but the doggedness towards a sex worker who on Instagram counts only a few thousand followers is proof of a stigma that still surrounds porn workers. As will as proof of how luxury brands often want to surround themselves with an aura of untouchability, forgetting even a part of their past, when the collations were less unattainable but indeed more interesting.